Injury updates: Kemp inching closer to rehab assignment
Injury updates: Kemp inching closer to rehab assignment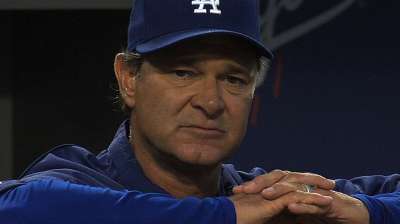 SAN DIEGO -- Disabled outfielder Matt Kemp said he had a "very good day" working out his healing right hamstring, but he still hasn't tested it running the bases, which would be the final hurdle before beginning a Minor League rehab assignment.
Dodgers manager Don Mattingly said he was still hopeful Kemp would advance to the rehab assignment by early next week, which would allow him to be activated by next weekend's home series against Philadelphia.
But Mattingly cautioned that such a timetable was only his hope, not anything sanctioned by the medical department.
Mattingly said he assumed one of his other disabled outfielders, Carl Crawford, would shift his workouts from Arizona to Los Angeles when the club returns after the weekend series in San Diego, but Crawford was still "behind Matt" and isn't close to a rehab assignment.
Third disabled outfielder Scott Van Slyke (strained shoulder) is ready for a rehab assignment and will start it Friday night for Triple-A Albuquerque.
Disabled pitcher Ted Lilly (strained neck) met the club in San Diego and Mattingly said there's a chance Lilly would throw a bullpen session before the series ends.
Ken Gurnick is a reporter for MLB.com. This story was not subject to the approval of Major League Baseball or its clubs.