Trout and Co. put Angels' defense on display
Trout and Co. put Angels' defense on display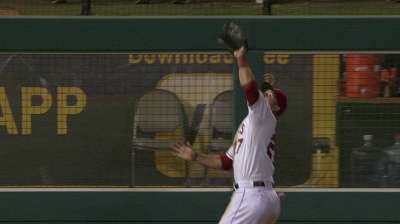 ANAHEIM -- The Angels' 54 errors are the second most in baseball and their .980 fielding percentage is tied for the worst, but the players and coaches know they can be a better defensive team than that, and it showed in Wednesday's 1-0 win over the Mariners.
"We played good defense," Angels manager Mike Scioscia said minutes after the win. "We talk about our defense and it's important and we did a good job tonight supporting C.J. [Wilson]"
Mike Trout's leaping catch against the left-field wall to end the top of the seventh and preserve the lead highlighted the evening, but Peter Bourjos also made a clutch catch in center field and second baseman Howie Kendrick made a nice play covering first on a ground ball to first baseman Mark Trumbo.
"You always say trust the defense, but when you have a defense like that, it's good," Wilson said.
After snapping a string in which they committed at least one error in 10 straight games on Tuesday, the Angels have put together back-to-back error free games for the first time since May 29-30.
When asked if it was the best defensive outfield he has ever had behind him, Wilson's response was short and immediate.
"Yeah, easily," Wilson said. "When you have three guys that can throw, that can run, that can go over the fence to get it, it's pretty exciting. It really is three center fielders."
Trout -- playing left field with Bourjos in center and Josh Hamilton in right -- has made several impressive plays in his brief career, but Wednesday's catch caught the eye of Mariners manager Eric Wedge.
"Nobody else in the game catches that ball," Wedge said.
Wilson sees Trout play on a daily basis and had no doubts about the outfielders ability to get to the ball.
"It's Mike Trout, put a cape on him," Wilson said.
William Boor is an associate reporter for MLB.com. This story was not subject to the approval of Major League Baseball or its clubs.