Aybar returns to leadoff spot
Aybar returns to leadoff spot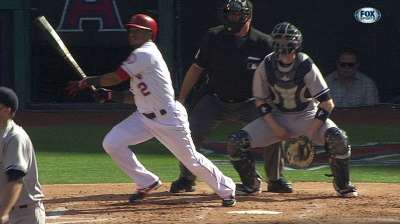 ANAHEIM -- With Erick Aybar leading off, Mike Trout hitting second and Josh Hamilton hitting seventh, the Angels unveiled their 42nd different batting order of the season prior to Thursday's game against the Mariners.
While Hamilton is hitting seventh for the second night in a row and Trout has hit second on 54 occasions, Thursday's change was moving Aybar from eighth to first and Peter Bourjos from first to ninth.
"Ideally, you'd love to have a lineup settle and people know where they are coming in to hit for the next 10 years, but that's not always where you are," Angels manger Mike Scioscia said.
While Scioscia admitted the leadoff spot could be a bit of a platoon for the time being, he wants to keep the middle of the order intact.
Trout has proven himself as a lead off hitter, but Scioscia feels Trout will be a middle-of-the-order guy as his career progresses, and keeping him in the second spot right now will get him more pitches to hit with Albert Pujols swinging a hot bat behind him.
"If we have to rotate out of the one hole, we'll do it," Scioscia said. "The big issue is trying to keep a little continuity through the lineup."
Thursday's contest marked the 32nd time Aybar led off for the Angels this season, but it was the first time since June 5. As a leadoff hitter, Aybar is hitting .254 with a .269 on-base percentage.
However, Aybar is in the midst of a five-game hitting streak in which he is hitting .400.
"Erick's feeling a little more comfortable, Scioscia said. "He's drawn some walks off [Felix] Hernandez, so we'll see if he can set the table," Scioscia said.
Aybar is hitting .241 in 58 career at-bats against Hernandez and is hitting .282 against right-handed pitchers this season.
William Boor is an associate reporter for MLB.com. This story was not subject to the approval of Major League Baseball or its clubs.