Holliday, Craig provide plenty for lustrous Lynn
Holliday, Craig provide plenty for lustrous Lynn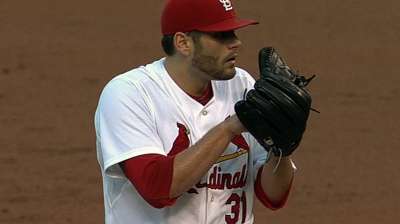 ST. LOUIS -- Manager Mike Matheny could have gone either of two ways. He had one of his most durable starters containing the Cubs and primed to pitch deeper into the night. He also had his cleanup hitter -- and one of the league's toughest outs with runners on base -- available off the bench.
Matheny weighed the options and eventually chose the potential for the big inning. He then watched as his choice paid off.
The Cardinals' four-run sixth -- during which they scored three times with two outs -- helped the club pull away for an eventual 6-1 victory over the Cubs on Thursday night. The win came in front of 43,651 fans at Busch Stadium, bumping the attendance total for the four-game series to 175,840.
That pivotal sixth inning opened with a homer from Matt Holliday, but turned on Allen Craig's key pinch-hit at-bat. The Cardinals' opportunity to break the game open was closing when it came time for Matheny to choose between leaving Lance Lynn in or calling on Craig to bat.
A leaping catch by Cubs center fielder Ryan Sweeney had robbed Matt Adams of an extra-base hit earlier in the frame. And with the bases full, Pete Kozma had popped out to third. With his club ahead by two, Matheny opted to send out Craig, who had been given a rare day off.
"Not an easy decision," Matheny said. "It was easy afterwards when it went well. I liked how Lance was throwing the ball right there, and I wasn't actually excited to take him out of the game. I was thinking about how we have a couple off-days ahead, and he's going to have plenty of rest. I was going to stretch him a little bit. But when you have Allen Craig on the bench..."
Indeed, it was the personnel that tipped the decision to make the move, one that Lynn supported
"I've got six hits in my career," Lynn said. "I don't think that is a smart play."
Craig worked the count to 3-0, before Cubs reliever Hector Rondon threw a strike and induced a foul ball for a full count. A 94-mph fastball came next, and Craig dumped it into right field for a two-run single.
"It was an opportunity to push through right there," Craig said. "You just try to get a base hit and keep the ball rolling."
The pinch-hit at-bat was the first of 2013 for Craig, though he leaned on his past experience in the role as he prepared.
The run-scoring hit improved Craig to 5-for-8 with 13 RBIs when hitting with the bases loaded. He's batting .486 (18-for-37) with two outs and a runner in scoring position. His 49 RBIs with runners in scoring position is tops in the National League.
"He's somebody you want up there in the big situation, because he wants to be up there in the big situation," Matheny said. "I have faith in all these guys, but you can see certain ones that just can't wait to get up there and make a difference in the game."
Matt Carpenter's single pushed across the final run of the inning, giving the Cardinals' bullpen a five-run cushion to maintain. That advantage did hold, and it improved Lance Lynn to 10-1 in 15 starts this season. He joins teammate Adam Wainwright and Washington's Jordan Zimmermann as the NL's only 10-game winners.
"Everyone has a friendly competition, and I definitely have one with him, and it's good to be tied with him," Lynn said of matching Wainwright. "Guys pushing you on your own team, that's what we do here as a pitching staff, and that's what we're going to keep doing. That's what's making us successful."
Lynn does have Wainwright beat in one figure right now, as Lynn's 28 wins since the start of the 2012 season are a Major League most.
Lynn would have lasted at least into the seventh had his spot in the batting order not turned up with the bases loaded in the sixth. He threw 62 of his 92 pitches for strikes and ran into little trouble outside of a 25-pitch fifth inning. He worked around two singles and a walk by getting Starlin Castro to pop up for the final out.
"Coming here, we knew it was going to be tough to score runs, and obviously, it was," Cubs manager Dale Sveum said. "We didn't swing the bats at all. We only had five hits today, so seven hits in two days [isn't] going to win too many ballgames, no matter how good your pitching is."
Lynn did serve up a game-tying homer to Cubs catcher Welington Castillo in the third, but the Cardinals quickly inched back ahead in the bottom of the frame, when Holliday's infield single scooted far enough away from the shortstop Castro for Carpenter to score from second.
An inning earlier, a leadoff walk by Yadier Molina and double from Adams put the Cardinals in position to score their first of five runs off Cubs starter Scott Feldman on a David Freese grountout.
"I knew going in that they had a good lineup and obviously, Yadi is swinging the bat about as good as anybody I've ever seen right now," Feldman said. "You've got to make your pitches and at the same time, be aggressive. I think you've got to tip your cap tonight. They did a great job and just beat me."
Lynn faced the minimum three hitters in the other four innings he pitched. The six-strikeout performance got the right-hander back on track after a shaky outing last weekend in Miami. Though Lynn won that game, too, he needed loads of run support to overcome allowing seven runs in five innings.
Seth Maness, Randy Choate and Kevin Siegrist combined for three scoreless innings behind Lynn.
The outcome sealed the series win for St. Louis and gave the team its first consecutive wins since June 9-11. It also put the club 21 games over .500 for the first time this season.
Jenifer Langosch is a reporter for MLB.com. Read her blog, By Gosh, It's Langosch, and follow her on Twitter @LangoschMLB. This story was not subject to the approval of Major League Baseball or its clubs.