Zimmermann limits Rox as bats come up big
Zimmermann limits Rox as bats come up big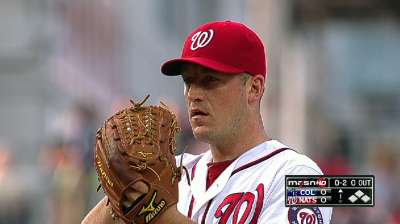 WASHINGTON -- With every pitch, Jordan Zimmermann's message to Rockies hitters was the same: Here's a strike; hit it. And for the most part, they could not.
Zimmermann was equal parts efficient and aggressive on a clear, cool night at Nationals Park on Thursday. In eight innings against the No. 2 offense in the National League, he struck out nine, walked one and allowed just six hits in a 5-1 win. The Rockies' only run against him, which came on a single in the eighth inning, was unearned.
"It seems like he's been pitching like this all year," catcher Kurt Suzuki said. "He's had a couple of hiccups here and there, but this is Jordan."
Zimmermann (10-3) rebounded from a rough outing in Cleveland to become the third Major League starter to reach 10 wins by doing what he does best: throwing strikes. A season-high 85 of them, to be exact.
"They're an aggressive team; it kind of works into my favor," Zimmermann said. "Throw some first-pitch strikes, let them hit the ball, and it was definitely a good win, and I needed that one after last outing."
Zimmermann has been fantastic this season, but like most of the Nationals' starting rotation, he has not always had help. He got plenty of run support Thursday, beginning in the second inning with a solo shot by Ian Desmond, his second in as many at-bats after a winning grand slam Wednesday night. He obliterated a hanging changeup, knocking it deep into the left-field seats.
From that point on, it seemed like the Nationals' offense had finally gotten back on track. Washington racked up 11 hits, and four players had multihit performances. Denard Span and Steve Lombardozzi had doubles, and LaRoche went 3-for-4 with a triple. It was his first three-hit game of the season.
"It's nice going late into a game and having some runs, having a little cushion there," LaRoche said. "[We've] played so many games where we're down by one late or up by one."
The Nationals did most of their damage against new Rockie and old foe Roy Oswalt. The former Phillie had 11 strikeouts in just five innings of work, but he also gave up four of Washington's runs and picked up the loss in his first Major League start of the season.
His counterpart, Zimmermann, stayed in control. All 15 of his pitches in the first inning were strikes, and in the second and third innings he threw only five balls. In one stretch, he set down 16 straight Rockies batters.
"It's a big fastball, and he throws strikes with everything," Rockies manager Walt Weiss said. "When you've got a big arm and you throw strikes, you're going to be tough."
With each passing start, Zimmermann has grown from a consistent middle-of-the rotation starter to one of the most dominant arms in the Majors. And never was that evolution more clear than when Rockies slugger Carlos Gonzalez stepped to the plate in the eighth inning Thursday.
After a walk, a throwing error by Anthony Rendon and two singles allowed the Rockies to score their first run, Gonzalez stepped into the box and worked a 2-2 count. He fouled off two high fastballs, and then a third. When Suzuki wanted to go back to the fastball, Zimmermann shook him off and asked for the changeup.
The pitch crossed the bottom corner of the zone, and Gonzalez swung and missed. Last year, Zimmermann said, he would not have had the confidence to throw that pitch in that situation.
"I'm probably going slider in or another fastball," he said. "Being able to whip that out late in the game is pretty big."
Zimmermann struck out Michael Cuddyer to retire the side, end his night and move the Nationals back to .500.
"He took the bull by the horns, throwing 95 at the end," manager Davey Johnson said. "Outstanding effort."
Tom Schad is an associate reporter for MLB.com Follow him on Twitter @Tom_Schad. This story was not subject to the approval of Major League Baseball or its clubs.