Mariners fall after giving Felix a 7-0 lead
Mariners fall after giving Felix a 7-0 lead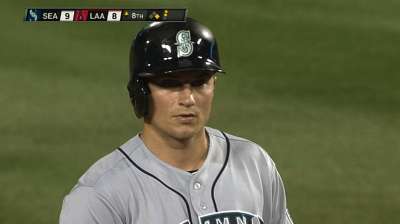 ANAHEIM -- This one will go down as a loss for Mariners reliever Carter Capps on a two-run rally in the eighth inning by the Angels, but Felix Hernandez knows better.
The Angels' 10-9 victory on Thursday was on the Mariners' ace after he couldn't hold a seven-run advantage on a night Seattle surrendered the second-largest lead in a losing effort in club history.
"I just blew the lead," Hernandez said. "It's all my fault. Nobody else's. Just me."
The un-King-ly effort spoiled a huge game by third baseman Kyle Seager, who capped his four-hit game with a go-ahead RBI double in the eighth inning. He wound up with a home run, two doubles, three RBIs and three runs scored.
But after Seattle had regained a 9-8 lead on Seager's final hit, the Angels scored twice in the bottom of the eighth off relievers Capps and Yoervis Medina, who walked in the winning run with two outs.
That such late dramatics would even be possible seemed unlikely when Hernandez was handed a 7-0 lead in the third inning and an 8-1 advantage in the fourth.
"He just had a bad day, and they started squaring him up," said Mariners manager Eric Wedge. "He's human. Every now and again you see that he is human, and it's the big leagues and he just had a bad day."
The Angels torched the 2010 American League Cy Young Award winner for five runs on seven consecutive hits -- including home runs by Peter Bourjos and Mark Trumbo -- in the fifth inning to turn a rout into a horse race.
Hernandez was pulled after that fifth with the Mariners still leading, 8-7. The right-hander allowed 12 hits and seven runs (six earned) in his shortest outing of the season. His ERA jumped from 2.32 to 2.71 while his record remained at 8-4. He'd never allowed more than six hits in an inning in his career.
Hernandez didn't have his normal fastball command, but said that wasn't the issue.
"I thought it was fine. I just left it up a little," he said. "I was being aggressive and when I left pitches up, they hit 'em."
The Angels have had Hernandez's number over the years, as he's 7-12 with a 4.12 ERA in his career against them, but they knew what they'd managed on this night.
"These guys on the dugout, on the field, just kept chipping away against one of the best pitchers in our league and finished it off against a good bullpen," said manager Mike Scioscia. "There are a lot of good things that we can talk about in the game, but I think the most important thing is that we kept playing baseball, kept playing hard."
A day after enduring their sixth shutout of the season, the Mariners jumped on Angels right-hander Tommy Hanson for three runs before they recorded their first out, thanks to a leadoff double by Endy Chavez, an RBI single by Nick Franklin and a two-run blast by Seager, his ninth home run of the season and first since June 5.
Seager laced a double past first baseman Albert Pujols in the third inning, added a single in the fourth and raised his average to .287 with his 4-for-5 night.
"Yesterday it started to feel better, that was a big day for me," Seager said. "And I was able to get a few hits today, which always helps you get some confidence. We know we're a better offense than we've been showing. But it comes in waves and hopefully we'll catch on here and continue it on to when we get home."
The Mariners seemingly broke things open with four more runs in the third, knocking Hanson out in the process as he surrendered seven runs on six hits and two walks in two-plus innings as the lead grew to 7-0.
Hernandez figured to appreciate the help. The 26-year-old ace is 99-25 in his career when receiving two or more runs of support while he's in the game, but he's received one or fewer in 91 of his 254 starts.
But this time, Hernandez couldn't take advantage. Of his 12 hits surrendered, three were by Mike Trout, who is now hitting .467 (14-for-30) against the Mariners ace and matched his own season high with a 4-for-4 night.
The Angels tied the game at 8 on an RBI single by Pujols in the sixth off Danny Farquhar, who intentionally walked Trout to face the Angels slugger, then won it in the eighth with three singles and a pair of walks.
"Sometimes when you have a lead like that, there's kind of a letdown, that finishing blow that just isn't there," said Mariners shortstop Brendan Ryan. "But I don't think that was the case. This was more of a game where you just tip your cap. They just kept fighting and fighting. One by one they just kept stringing stuff together no matter what the score was or what it looked like early."
Seattle finished 3-4 on its trek to Oakland and Anaheim and now is 32-42, falling a game and a half back of the third-place Angels (33-40).
"We'll try to forget this one as quickly as possible," said Ryan. "It won't be the happiest plane flight. But we've got the A's tomorrow, and it's just as big a game tomorrow. That was a chance to have a winning record on the road and it didn't happen, but we still have to take care of business at home."
Greg Johns is a reporter for MLB.com. Follow him on Twitter @GregJohnsMLB as well as his Mariners Musings blog. This story was not subject to the approval of Major League Baseball or its clubs.