C. Carpenter suffers setback; expects diagnosis Friday
C. Carpenter suffers setback; expects diagnosis Friday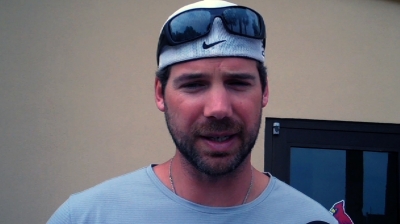 ST. LOUIS -- Chris Carpenter's throwing program has stalled this week due to lower back tightness that first surfaced when the right-hander was throwing off the mound on Sunday.
Though Carpenter has been unavailable to speak with the media in recent days, general manager John Mozeliak said the area of tightness is concentrated in Carpenter's lower back. That makes this an issue separate from thoracic outlet syndrome, which kept Carpenter sidelined for most of 2012 and then bothered him again earlier this season.
However, this is not the first episode of back tightness for Carpenter, who has dealt with a similar issue each of the past two seasons. In fact, back tightness preceded the nerve issues that Carpenter dealt with last season. There is some concern that a bulging disc could be the trigger of the pain.
"Going back to Sunday, when he threw his bullpen, he definitely felt his back lock up on him," Mozeliak said. "Now, from a pitching standpoint, the arm is working well. All that is positive. We are now dealing with a lower back issue. Going back 48 hours, I was thinking it was going to be much worse than perhaps it is going to be. But it's still slowing things down. Hopefully we can keep progressing as he continues to work at it. We have to be patient."
The Cardinals are currently seeking additional opinions from area doctors on the back injury, and Mozeliak said the organization expects to have a more firm diagnosis on Friday. From there, it will develop a treatment plan.
"I think what they're trying to do is just strengthen it and allow him to play through," Mozeliak said. "It's not something that rehab is necessarily going to fix. It's still going to be there. Can he stabilize it and work around it to allow himself to go pitch?"
Carpenter had progressed enough to be cleared to throw to batters during the last homestand, and he did so twice. He was expected to continue those sessions this week until this latest setback.
With Carpenter's timetable of recovery unknown, the organization continues to operate under the assumption that the veteran right-hander will not be able to contribute this year. It is a necessary stance to take as the club evaluates potential trade candidates in advance of next month's non-waiver deadline.
"When you think about the trading deadline right now, you sort of approach this club with the thinking that he's not a part of it," Mozeliak said. "In the sense of, he hasn't pitched yet. He could still end up contributing, though I think that's a bonus. I don't think you can really go into the [July] 31st [Trade Deadline] factoring him involved right now."
Jenifer Langosch is a reporter for MLB.com. Read her blog, By Gosh, It's Langosch, and follow her on Twitter @LangoschMLB. Chad Thornburg is an associate reporter for MLB.com. This story was not subject to the approval of Major League Baseball or its clubs.