Marmol rebounds with solid outing Thursday
Marmol rebounds with solid outing Thursday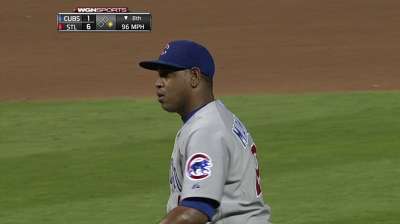 ST. LOUIS -- Carlos Marmol had not pitched in three games since he blew a three-run lead in the ninth against the Mets on Sunday, which resulted in a 4-3 loss to New York.
"I feel great," Marmol said Thursday. "I'm waiting for the opportunity to pitch. We'll see."
On Thursday, the Cubs right-hander was called on to pitch the eighth, and retired the first two Cardinals batters before Pete Kozma reached on an infield single. Pinch-hitter Ty Wigginton then lined out to Marmol to end the inning. It was efficient, which is how Marmol had been in four outings prior to Sunday's implosion.
This season, Cubs manager Dale Sveum has tried to get Marmol back in a game the day after he has a rough outing. Not this time.
"We've got a lot of guys in the bullpen," Sveum said of the Cubs, who have been carrying eight relievers since Saturday, when outfielder David DeJesus was put on the disabled list. "The other times, I did want to get him back on the mound. [Sunday's game], to me, wasn't like some of the other outings. He just got hit [on Sunday] more than imploding and throwing balls all over the place."
Marmol, who has walked 21 and given up 26 hits over 27 2/3 innings, has been working on the side with bullpen coach Lester Strode, who has been with the right-hander since he signed with the Cubs in 1999.
"I've been through this," Marmol said of the tough outing. "I'm working out, talking to Lester. He knows me better than anybody here. We'll see."
In the seven games when Marmol has pitched with zero days' rest, he's posted a 1.35 ERA and is 2-0. Those numbers change dramatically when he pitches on one-day rest. In those 11 games, Marmol is 0-4 with a 15.26 ERA.
"I love to pitch," Marmol said. "I can't make that decision, though. I have to wait for my opportunity."
Carrie Muskat is a reporter for MLB.com. She writes a blog, Muskat Ramblings, and you can follow her on Twitter @CarrieMuskat. This story was not subject to the approval of Major League Baseball or its clubs.