Fowler hopes to avoid DL amid nagging pain
Fowler hopes to avoid DL amid nagging pain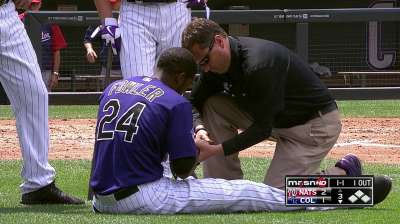 WASHINGTON -- Rockies center fielder Dexter Fowler was discouraged by the pain he felt in his right ring finger when he attempted to bat in the cage before Thursday night's game against the Nationals.
Fowler was hit on the finger while trying to bunt during a game last Thursday and has played sporadically since. Monday night against Blue Jays right-handed pitcher Josh Johnson, the switch-hitting Fowler had problems hanging onto the bat with his right hand. That presents an issue because, batting from the left, the right hand is at the bottom of the bat and cannot be removed during a swing.
Fowler said he was improving daily but not enough to return to Thursday's starting lineup, although he remained available for limited pinch-running situations and possibly some defense.
He said he hoped to avoid a trip to the 15-day disabled list. However, if Fowler is out much longer, the Rockies run the risk of over-using left fielder Carlos Gonzalez, who is playing through left foot and left knee pain, and right fielder Michael Cuddyer, whose ribs that he bruised earlier in the year have come much closer to healing.
"I want to play," Fowler said. "I'm frustrated over the fact that it still hurts, but at the same time I don't want it to get worse. It's still sore. I could wear the soreness, but at the same time that's their biggest fear, that it will go the other way. It's getting better, but I don't want to regress."
An X-ray on the day the injury occurred did not reveal a fracture, and another taken Thursday confirmed that none had developed.
Fowler is hitting .298 with 10 home runs, 26 RBIs, 12 doubles and two triples.
Thomas Harding is a reporter for MLB.com. Read his blog, Hardball in the Rockies, and follow him on Twitter @harding_at_mlb. This story was not subject to the approval of Major League Baseball or its clubs.