Crowe to disabled list after collision with wall
Crowe to disabled list after collision with wall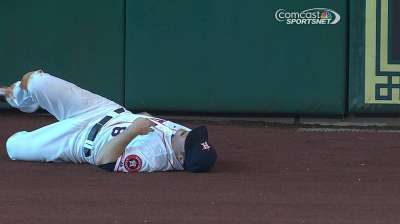 HOUSTON -- The Astros placed right-fielder Trevor Crowe on the 15-day disabled list after he sprained the AC joint in his right shoulder during the sixth inning of Thursday's 7-4 win over the Brewers.
Crowe smashed the shoulder into the right-center field fence chasing Jonathan Lucroy's home run, narrowly missing the ball and losing his glove as he tumbled to the warning track. He remained there for a few minutes, clutching his shoulder and wincing in pain.
"I had a great read on the ball," Crowe said. "I feel like if I just had another 6-8 inches, I would've been able to jump and catch the ball. I accelerated and jumped, and the wall won. It's almost like the catch was playing in my mind and almost as instantaneously, I was looking up at the roof."
After attending to Crowe, Astros manager Bo Porter removed him from the game, moving Justin Maxwell over to right field in Crowe's place and inserting Brandon Barnes in center field.
Crowe was making his first start in three games and went 1-for-3 in the leadoff spot, but he was thrown out at third trying to stretch his only hit into a triple during the first inning. He also collected an RBI on a fielder's choice in the fifth inning.
"It [stinks] for a couple of reasons. One, you see how much fun we're having right now," Crowe said. "We're playing good as a team, we're winning, You see Carlos[Pena] hit that walk-off.
"And two, coming into the series, I made a slight adjustment on my swing and three of the last four at-bats I took, I thought I hit the ball really good, on the barrel. I was really excited to take that adjustment forward."
Crowe had started seven of nine games in right field before Maxwell returned from a hand injury on Tuesday. He also had a pinch-hit single in Tuesday's game.
The outfielder said there is no timetable on his return from the injury. Porter said he doesn't want to see Crowe change his playing style when he does recover.
"Trevor's an all-out player, and that's really the only way he knows to play," Porter said. "It's unfortunate he suffered an injury giving the type of effort he did on that ball."
The Astros called up outfielder Marc Krauss from Triple-A Oklahoma City to replace Crowe on the roster. Krauss, 25, hit .277 with nine homers and 35 RBIs through 65 games with the RedHawks this season. His first game with the Astros will be his Major League debut.
Chris Abshire is an associate reporter for MLB.com. This story was not subject to the approval of Major League Baseball or its clubs.