Harper pushes toward next phase of recovery
Harper pushes toward next phase of recovery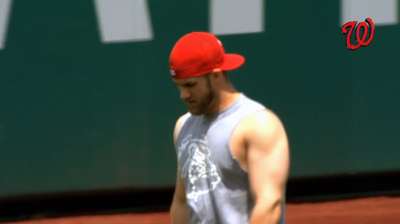 WASHINGTON -- The Nationals have rehabilitation charts for every injured player, outlining when and how he can begin to recover from a specific ailment. But it appears that outfielder Bryce Harper is working off his own rehab schedule.
Harper has recently done some "unauthorized running," according to manager Davey Johnson, but he has not had any more swelling in his injured left knee. Johnson also said the 20-year-old slugger would take some swings in the batting cage before Thursday's game and could begin a rehab assignment soon.
"He's close," Johnson said. "If [the knee] doesn't swell up tomorrow, as far as I'm concerned, he can play some. I think he's champing at the bit."
Harper has been on the disabled list since June 1 with bursitis in his left knee. While Harper was not officially cleared to resume baseball activities until Thursday afternoon, Johnson thinks the reigning National League Rookie of the Year has felt healthy enough to speed up the process.
"He probably won't tell anybody, but I'm sure he's been doing baseball stuff," Johnson said.
Harper originally injured the knee May 13 when he ran into the right-field wall at Dodger Stadium and aggravated the injury with two head-first slides May 26.
Harper previously said he would want to play a few Minor League games before returning to the Nationals' lineup, though Johnson would not outline a specific timetable for Harper's return. Washington is 10-17 this season without Harper in the lineup.
"He's just got to convince the medical staff that he's good to go," Johnson said. "The way I look at it is, he goes and plays a couple of games, and if he doesn't have any swelling in the knee, he'll be ready."
Tom Schad is an associate reporter for MLB.com Follow him on Twitter @Tom_Schad. Andrew Simon is a reporter for MLB.com. Follow him on Twitter @HitTheCutoff. This story was not subject to the approval of Major League Baseball or its clubs.