Jaso putting it together at plate in June
Jaso putting it together at plate in June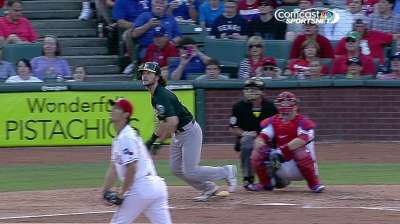 ARLINGTON -- For John Jaso, it's as simple as seeing the ball better.
Jaso is batting .366 with a .481 on-base percentage in 12 games this June, putting him on pace to have the best month of his career. After hitting just .235 in May, Jaso reached base in 17 consecutive games before going hitless in two at-bats after replacing Derek Norris in Wednesday's loss to the Rangers.
"I think it just has to do with my vision," Jaso said. "Letting it get deeper. It doesn't have anything to do with extra work or tuning my swing. My eyes are staying on the ball, instead of coming off it."
Jaso has raised his average from .252 to .278 this month. He's drawn seven walks and struck out only five times in 38 at-bats. His .368 batting average this month is the highest among American League catchers.
"He's swinging the bat really well," manager Bob Melvin said. "He's getting his fair share of hits and driving the ball again, but he's walking and getting on base. That works pretty well in that [No.] 2 spot."
Jaso batted .326 last June, his best career one-month average. This June, he's well on his way to setting a career high in that category.
"It's just getting repetitions. That's probably it," Jaso said. "I know last year, I didn't really play that much in the beginning of the year and then I started becoming more of a regular. As I get more repetitions at the plate, I just see the ball better."
Christian Corona is a contributor to MLB.com. This story was not subject to the approval of Major League Baseball or its clubs.