Almonte gets first Major League hit in unusual fashion
Almonte gets first Major League hit in unusual fashion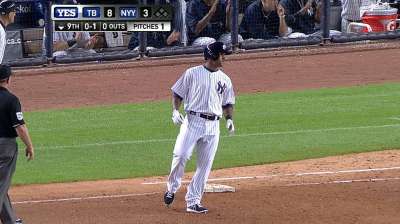 NEW YORK -- Zoilo Almonte's first career hit came in unusual fashion, but it still felt good to get one under his belt.
Pinch-hitting for outfielder Vernon Wells in the ninth inning of Thursday's 8-3 loss, Almonte scorched a grounder to the left side. The ball drilled the third-base bag and popped into the air, giving Almonte enough time to reach first base.
Almonte was thrown out at second a batter later as part of a fielder's choice.
Manager Joe Girardi said that he was just getting Almonte an at-bat -- "trying to get his first hit for him" -- and that the substitution wasn't an indictment on Wells' play of late.
The ball probably would have snuck past Longoria and into left field, but the strangeness of the single will make the hit all the more memorable.
"You try and get it out of the way," Girardi said, "because sometimes you get that first one out of the way, [then] if you're called upon to play, it's a lot easier."
Adam Berry is a reporter for MLB.com. Follow him on Twitter at @adamdberry. Chris Isemanand David Wilson are associate reporters for MLB.com. This story was not subject to the approval of Major League Baseball or its clubs.