Girardi thinks defense when crafting lineup behind Pettitte
Girardi thinks defense when crafting lineup behind Pettitte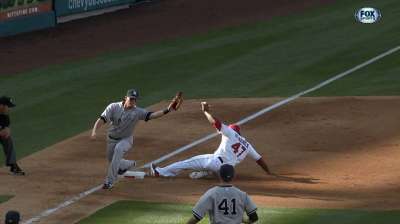 NEW YORK -- Manager Joe Girardi made a change to his lineup on Thursday, but it was because of who was on the mound for the Yankees, not the Rays.
Girardi started Jayson Nix at third base instead of David Adams, and inserted the left-handed-hitting Reid Brignac at shortstop. Nix typically platoons with Brignac, who's hitless in his last 17 at-bats, at short.
But with Andy Pettitte pitching, and despite Tampa Bay starting lefty Matt Moore, Girardi wanted what he feels is his best defense, since Pettitte induces so many ground balls.
"I look at who's pitching for us, and you have a guy that gets a lot of ground balls to that side," Girardi said, "and I'm putting our best defense -- what I feel our best defense is -- over there."
That meant sitting Adams, who's hitting .200 with two home runs and seven RBIs in 23 games. He has one hit in three at-bats against Moore.
Nix is 1-for-10 with five strikeouts against Moore, and Brignac has never faced him.
Girardi has been giving all of them consistent at-bats, but defense took precedent when it came to filling out Thursday's lineup.
"A lot of that is because of the guy on the hill for us," Girardi said. "For the most part, I'm giving them their at-bats."
Adam Berry is a reporter for MLB.com. Follow him on Twitter at @adamdberry. Chris Isemanand David Wilson are associate reporters for MLB.com. This story was not subject to the approval of Major League Baseball or its clubs.