Slumping Wells aims to repay Girardi's faith
Slumping Wells aims to repay Girardi's faith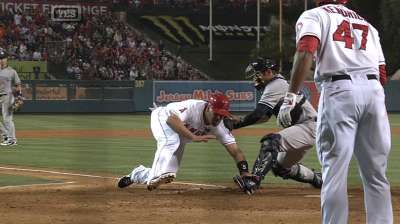 NEW YORK -- With a runner on second and one out in the fifth inning of the first game of the Yankees' doubleheader with the Dodgers on Wednesday, Vernon Wells stood in the on-deck circle, waiting to hit behind Robinson Cano.
Four pitches later -- an intentional walk to Cano -- Wells dug into the batter's box with a chance to break open the game. But Los Angeles' Hyun-Jin Ryu got him swinging, and he trudged back to the dugout like he has so often during this prolonged slump.
Any protection Wells provided Cano during the first month of the season has vanished. Teams can be careful with Cano without any fear of Wells making them pay.
"I think it shows just how bad I've gone lately," Wells said. "It's pretty plain and simple."
An 0-for-7 day on Wednesday dragged Wells further into his slump. After batting .300 in April, he hit just .181 in the almost two months since before going 0-for-3 in Thursday's series opener.
But manager Joe Girardi hasn't wavered with his commitment. He's started the veteran outfielder in 15 of the team's 17 games in June and had him starting in left field and batting fifth on Thursday.
"We believe in Vern," Girardi said. "Will I give him a day off here and there? Yeah, but I've done that all year long. But we still believe that he can get it done."
Girardi said that most of Wells' struggles have simply come from timing, though he's been chasing pitches, too. He took an ugly swing at a pitch way out of the zone to strike out in the at-bat following the intentional walk to Cano on Wednesday.
Wells spent Thursday morning working with hitting coach Kevin Long, watching film and hitting against a machine. The film revealed that he's been keeping his hands a bit too far from his body.
"That's the beauty of this game," Wells said. "You're a hair off, and it can be pretty bad."
The machine helps Wells keep his swing short. He said that the device, which throws as hard as any there is, dominated him to start the day, but he shortened his swing and improved.
He appreciates that Girardi has stuck with him. Now, armed with a shorter swing, he can reward his manager for his faith.
"I've got to repay him for that," Wells said, "and that's what I plan on doing."
Adam Berry is a reporter for MLB.com. Follow him on Twitter at @adamdberry. Chris Isemanand David Wilson are associate reporters for MLB.com. This story was not subject to the approval of Major League Baseball or its clubs.