Pineda feels 'great' after start for Class A Tampa
Pineda feels 'great' after start for Class A Tampa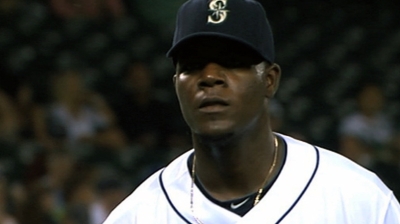 TAMPA, Fla. -- Michael Pineda said that he felt "great" after pitching four innings for Class A Advanced Tampa on Thursday night, his third outing since beginning a rehab assignment earlier this month.
Pineda allowed two runs (one earned) on five hits and a walk while striking out three against the Brevard County Manatees at George M. Steinbrenner Field. He threw 52 of his 73 pitches for strikes and served up only one hard-hit ball all night, a line-drive single to right field by the second batter he faced.
The 24-year-old, recovering from surgery on his right shoulder, said that he felt strong enough to pitch deeper into the game and hopes to do so the next time he takes the mound. He doesn't know where that outing will take place, nor is he sure how many more Minor League starts he'll need. He seemed perfectly content leaving those decisions in the Yankees' hands.
"I don't have control of the situation. But the [good] thing is, my shoulder is feeling good," Pineda said. "Everything's doing well. That's where I want to be."
Thursday was technically Pineda's third start since he began his 30-day rehab assignment, but it was just his second with the Tampa Yankees. He gave up two hits and an unearned run while striking out four over 4 1/3 innings for Tampa on June 9, then started in a simulated game last Friday so the Yankees could better control the conditions in which he pitched.
This latest outing gave him a more realistic taste of what he'll have to deal with whenever he returns to the Majors. The first three batters he faced reached on singles -- he said that his front side was flying open during his delivery -- and he had to pitch his way out of a jam in a 27-pitch inning.
"It's good," he said. "I learned a lot from this game."
After that, Pineda did a better job of keeping the ball down in the strike zone and gave up only two hits, a walk and an unearned run over the next three innings. His only three-ball count of the night resulted in a walk. He used all of his pitches and said that his changeup was more effective than ever.
Pineda wanted to go back out for the fifth inning, but pitching coach Jeff Ware decided to call it a night, because Pineda was close to the 80-pitch mark the Yankees had set for the start.
Acquired by New York before the 2012 season after a breakout rookie season in Seattle, Pineda has yet to throw a pitch in the Majors for the Yankees. He may have to wait a little longer even when he is declared fully healthy, because the Bombers don't have a pressing need for starting pitching right now. But after completing another successful step toward the bigs, Pineda could at least entertain the idea of pitching in pinstripes relatively soon.
"I want to," he said. "I want to pitch back in the Major Leagues."
Adam Berry is a reporter for MLB.com. Follow him on Twitter at @adamdberry. Chris Isemanand David Wilson are associate reporters for MLB.com. This story was not subject to the approval of Major League Baseball or its clubs.