Yanks' offensive struggles continue in loss to Rays
Yanks' offensive struggles continue in loss to Rays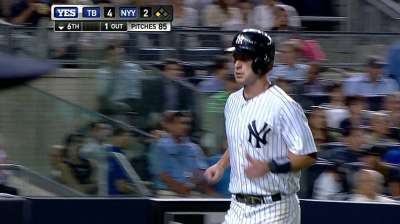 NEW YORK -- Entering Wednesday, Rays starter Matt Moore had allowed 27 hits in his last 12 1/3 innings. In 6 1/3 innings against him, the Yankees mustered just four.
Moore hasn't regained the form that saw him win eight consecutive decisions to start the season, but against a struggling New York lineup, he didn't need to. The Yankees plated just three runs off the left-hander in dropping the series opener, 8-3.
"He's got a good arm. He's got a fastball that runs 93, 94, 95 [mph], but it plays up a little harder than that," center fielder Brett Gardner said. "When he's able to command his pitches and throw strikes, he's as good as it gets. We just weren't able to do enough against him."
The Yankees only recorded two hits over the first five innings -- both of them singles -- and they didn't advance any runners past first base until the sixth inning.
They finally got to Moore in that frame, scoring all three of their runs, even though they only got one hit. After shortstop Reid Brignac singled to center to lead off the frame -- he would later score on a wild pitch -- Gardner and third baseman Jayson Nix walked, second baseman Robinson Cano hit a sacrifice fly and Travis Hafner grounded into a run-scoring fielder's choice.
"We haven't been doing a real good job as an offense of getting guys on base and situational hitting and scoring runs. We need to do better at that," Gardner said. "It's kind of the same thing after every loss. We say the same things. It's not from lack of work, it's not from guys not trying or guys not caring. That's for sure."
Continued struggles at the plate did not allow the Yankees to overcome another lackluster start from veteran left-hander Andy Pettitte, who gave up five runs on nine hits over 6 2/3 innings, striking out six and walking one.
"He didn't really make a ton of mistakes, but the ones he made, they really capitalized on," manager Joe Girardi said. "When he got a ball in the middle of the plate, they hit it."
Pettitte has a 4.91 ERA in the four starts he's made since coming off the disabled list on June 3.
"I just need to be better," Pettitte said. "I need to shut these guys down once in a while and give us a chance to score first one time instead of always being in a hole. And I feel like I'm putting us in a hole every time out right now."
The Rays got the scoring started in the second inning. Rookie right fielder Wil Myers drilled a single past Pettitte into center field to lead off the frame and later scored on catcher Jose Lobaton's sacrifice fly, beating the throw to the plate by right fielder Ichiro Suzuki.
The Rays tacked on two runs in the next inning. Center fielder Desmond Jennings and left fielder Sean Rodriguez led off with back-to-back singles, and second baseman Ben Zobrist scored Jennings with a single to center. Third baseman Evan Longoria plated Rodriguez with a sacrifice fly to right, and Tampa Bay had an early three-run lead.
After Longoria hit his 15th home run of the season to give the Rays a four-run lead in the sixth, the Yankees ended their 16-inning scoreless drought with three runs in the bottom of the frame.
Tampa Bay got those three runs back and more over the next two innings, though. Rodriguez picked up an RBI with a double in the seventh inning, Longoria hit his second home run of the game in the eighth and shortstop Yunel Escobar followed it up with a home run of his own to stretch the Rays' lead back to five runs.
"It's just another frustrating night," Pettitte said. "[Girardi] gives me a chance to get out of that inning and trusts me to get out of that inning with Rodriguez up, and I can't get him out. It's just disappointing."
The two long balls gave Longoria the 12th multihomer game of his career and third against New York. Yet he's just a .130 lifetime hitter against Pettitte after Thursday's 1-for-2 performance.
"[Pettitte has] made some pretty good pitches on me, so as a team I thought we did a really good job against him," Longoria said. "In the past we've swung at some of those good back-door sliders and cutters -- kind of let him have his way with us. So tonight was a great start for the series, and [it was] good to see us have some good at-bats."
Wednesday's loss marked the ninth time in the past 12 games New York has scored fewer than four runs. But even though his team ranks 29th in the league in runs scored in June, Girardi has no plans to make any drastic changes.
"These are the guys that got us 12 games over," he said. "Right now we're struggling. We need to get on a roll. We need to play better."
Josh Vitale is an associate reporter for MLB.com. This story was not subject to the approval of Major League Baseball or its clubs.