Aramis tries to produce as he plays through pain
Aramis tries to produce as he plays through pain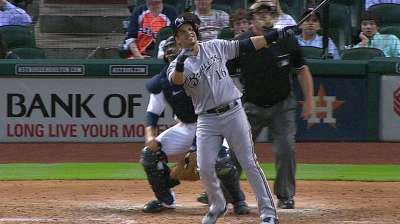 HOUSTON -- Ryan Braun is not the Brewers' only injured middle-of-the order hitter. Cleanup man Aramis Ramirez reluctantly has agreed that his balky left knee is contributing to his recent dip in production at the plate.
"I'm not 100 percent, and everybody knows that," Ramirez said. "I'm not healthy. It's a little tougher to play when it's like that, but I have no choice."
Ramirez has twice sprained his left knee this season on slides into second base, once in Spring Training and again in the fifth game of the regular season. He returned after missing 23 games and has been playing at less than full strength.
Ramirez is resting every fourth or fifth game, and this week has served as the Brewers' designated hitter for Interleague Play against the Astros. He has had several minor setbacks along the way, most recently on a slide into home plate during the Brewers' June 6-9 series in Philadelphia.
His ninth-inning home run in Wednesday's win was his first since a two-homer game in St. Louis on May 17, ending a power drought that spanned 99 plate appearances and parts of 24 games. It was Ramirez's third extra-base hit in his first 14 June games.
But with three-hole hitter Braun and projected five-hole hitter Corey Hart on the DL, Ramirez plans to "keep playing as long as I can." He entered Thursday four hits shy of 2,000 for his career.
"When it gets to the point that I can't do it, then we'll talk about it," Ramirez said. "I have a real good relationship with Ronnie [manager Ron Roenicke], so he would be the first person I tell."
Said Roenicke: "We need him. Not necessarily [to] hit home runs, [though] that was nice, but we need him to have good at-bats. He's still dangerous. People still don't really want to pitch to him with men on base."
Adam McCalvy is a reporter for MLB.com. Read his blog, Brew Beat, and follow him on Twitter at @AdamMcCalvy. This story was not subject to the approval of Major League Baseball or its clubs.