Andrus still looking for answers at plate
Andrus still looking for answers at plate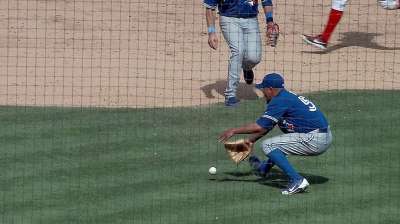 ARLINGTON -- Elvis Andrus feels winning can help cure his offensive funk at the plate, but it didn't help on Wednesday.
The Rangers racked up 14 hits in Wednesday's victory over the A's, but Andrus went hitless. He hit a hard ground ball in the sixth when the Rangers brought nine men to the plate, but Eric Sogard made a nice diving play to get Andrus out.
"That's the way it's been going this year so far," Andrus said. "One thing I got in my mind so far is during the season, it's all about how you end up, not how you start. I still believe that my best is in front of me, and I've got plenty of at-bats to get back where I want to be."
Andrus had just one hit in his last 22 at-bats entering play on Thursday. He is 17-for-106 in his past 26 games, dropping his batting average from .282 to .238. Rangers manager Ron Washington said he liked Andrus' at-bats and energy on Wednesday.
"He swung the bat well for a while and went into a little slump," Washington said. "All you can do is hit the ball. Normally, after he does something like that, he'll come in and lose his mind, but last night he calmly put his stuff down. I'm not worried about Elvis. As long as he's healthy, he'll figure it out."
Master Tesfatsion is an associate reporter for MLB.com. This story was not subject to the approval of Major League Baseball or its clubs.