Perez to start Saturday against Cardinals
Perez to start Saturday against Cardinals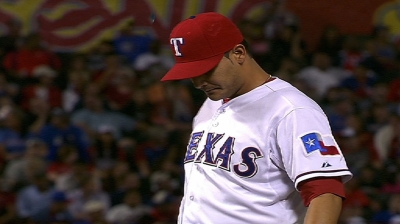 ARLINGTON -- The Rangers announced Martin Perez will start against the Cardinals on Saturday.
Perez traveled with the team after Thursday's 4-3 victory over the A's, and the Rangers will announce the corresponding roster move on Saturday.
It will be Perez's second start this season. He allowed four runs (three earned) on nine hits in 5 1/3 innings against the D-backs on May 27.
Perez was placed on the 15-day disabled list with a broken left wrist on March 31. He was optioned to Double-A Frisco once he was off the disabled list, then sent to Triple-A Round Rock after his start against the D-backs. He is 5-1 with a 1.75 ERA in six starts with Round Rock.
"I just want to do the same that I did in Triple-A," Perez said Thursday. "I don't want to do too much. I just want to do my best job and compete. That's what I need. I come in more strong in my mind. That's good, because when that happens, you become stronger and work harder. I feel comfortable on the mound. I've never been more comfortable than this year."
Nick Tepesch's start will get pushed back to Sunday, and Yu Darvish will start Tuesday against the Yankees.
The Rangers also announced that Joakim Soria began his rehab assignment with Double-A Frisco on Thursday. Soria was scheduled to pitch an inning in the first of multiple appearances with the team.
Soria threw two live batting-practice sessions during the Rangers' 11-game homestand, and threw the ball well in both outings as he recovers from Tommy John surgery.
"I'm very pleased," said Rangers manager Ron Washington. "We'll see how he comes out of that. We'll give him a day or two days after that, and then send him back out there again. We hope he continues to progress."
Alexi Ogando and Colby Lewis had some action at Rangers Ballpark on Thursday. Ogando threw long toss from 150 feet and Lewis had a bullpen session. Ogando is expected to long-toss again on Friday, while Lewis will work out with Double-A Frisco.
Neftali Feliz will throw his second 25-pitch bullpen session Friday at the Rangers' Spring Training facility in Surprise, Ariz. Matt Harrison is also scheduled to throw from 75 feet next week.
Master Tesfatsion is an associate reporter for MLB.com. This story was not subject to the approval of Major League Baseball or its clubs.