Old memories resurface as Rangers face Cards
Old memories resurface as Rangers face Cards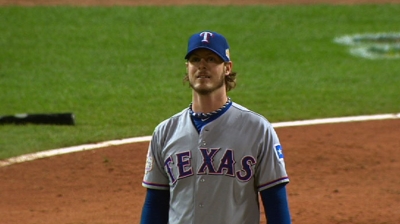 ARLINGTON -- Kyle McClellan keeps his 2011 World Series ring with the Cardinals hidden in a safe place. He said he only wears it for offseason autograph signings and speaking engagements. But McClellan jokingly asked his Rangers teammates if he should bring the ring in the clubhouse for the first game against the Cardinals since the 2011 Series on Friday in St. Louis.
"Maybe I'll wear it when I go out to pitch and call timeout and have them take it off," McClellan joked.
Turning serious, McClellan said he won't wear the ring, but the Rangers have healed from the crushing defeats in Games 6 and 7. McClellan said the team jabs back and forth with him and Lance Berkman, who was also with the Cardinals. McClellan said he asked how the Spurs felt after losing Game 6 in the NBA Finals on Tuesday, given the parallels with how close the Rangers and Spurs were to winning the title.
"As soon as [McClellan] got here, that was the first joke," shortstop Elvis Andrus said. "We still kind of hate him for that series, but it's going to be fun to go back there. I know a lot of people are going to talk about Game 6, but it's just another game in the regular season for us."
It'll just count as three regular-season games, and both teams have gone through a number of roster moves in the last two years, but Rangers outfielder David Murphy said he won't have good memories when he takes the field.
"I'd be lying to you if I said I'm going to walk into that field and I'm not going to have some flashbacks to 2011," Murphy said. "I think the natural reaction and process is to think that they're going to be negative thoughts, but really off the top of my head, I'm going to remember some of the greatest baseball that I've ever witnessed on that field. Things didn't turn out the way that we wanted to, but there was some great baseball played there."
"It felt so close, you never really realize it sometimes," Andrus added. "You kind of go back and think how close we were, but things happen for a reason. It helped us as a team, and hopefully we get in that situation soon."
Master Tesfatsion is an associate reporter for MLB.com. This story was not subject to the approval of Major League Baseball or its clubs.