Rangers within game of A's after taking finale
Rangers within game of A's after taking finale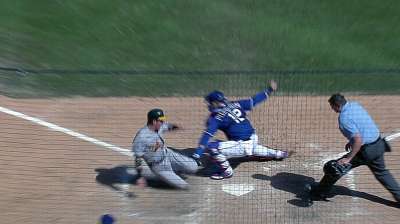 ARLINGTON -- Rangers manager Ron Washington has been known to get antsy in the dugout. On Thursday, he jumped out of the chair and gave a declarative fist pump in the Rangers' 4-3 win over the A's at Rangers Ballpark that ended on a play at the plate.
Josh Donaldson ran through third-base coach Mike Gallego's stop sign in an attempt to score from first on Seth Smith's single in the ninth with two outs. Craig Gentry entered the game as a defensive substitution in the ninth, but the ball glanced off his side in center field.
But Gentry quickly scooped up the ball and threw to Elvis Andrus, who threw a dart to A.J. Pierzynski to record the out at the plate and end the game, pulling Texas within one game of Oakland in the American League West.
"I was hoping Gentry had enough foot speed to catch it, but it sunk on him," Washington said. "But he kept it almost in front of him. He hit Elvis perfectly. If he didn't hit Elvis perfectly, I don't think we'd be able to pull that play off."
It was one of many opportunities in which the Rangers walked away with minimal damage in the game.
Robinson Chirinos failed to advance David Murphy to third on a bunt attempt with no outs, down 3-2 in the seventh. But the Rangers still managed to load the bases when Leonys Martin beat out an infield single with reliever Sean Doolittle covering the bag with two on and two outs. Ian Kinsler then hit a two-run single to put Texas up 4-3.
"It was a well-fought game," Kinsler said. "Both managers made a lot of moves. To come out on top of a game like that, especially against these guys, is big."
The Rangers matched the A's frame for frame through six innings. Josh Lindblom allowed two runs on eight hits in five innings while Oakland starting pitcher A.J. Griffin gave up two runs on three hits in 5 1/3 innings.
All four of the runs allowed by the starting pitchers occurred in the fifth and sixth. Lowrie put the A's up 1-0 in the fifth on a RBI single, but he was thrown out by Lindblom advancing to second. Geovany Soto tied the game at 1-1 on a solo shot in the bottom half.
Lindblom left in the sixth after allowing consecutive singles to start the inning. The Rangers then walked two straight batters with two different relievers to give the A's a 2-1 lead. Washington then went to Robbie Ross earlier than normal with the bases loaded and no outs. And Ross delivered, retiring the next three batters he faced, not allowing another run to score.
The Rangers caught a break in the bottom half to tie the game at 2-2 when Kinsler scored on a wild pitch. Ross remained in the game in the seventh, but allowed a single and a walk to start the inning.
"I told [Washington] I felt good, but I had such an adrenaline rush from that inning with the bases loaded, I should've told him, 'Hey, let's go with someone else,'" Ross said.
Ross struck out Brandon Moss, but Washington brought out reliever Tanner Scheppers to finish the inning. Lowrie scored on a throwing error by Andrus, who attempted to get Lowrie out at third, giving the A's a 3-2 lead.
Scheppers (5-0) walked Coco Crisp to start the eighth, but benefited on a ball caught on the warning track by Nelson Cruz, who slammed into the right-field wall.
"I had my defense help me out a lot today," Scheppers said. "You got to tip your cap to Cruz for making that catch. Sometimes you don't have your best stuff, but you still go out there and battle."
Texas' 11-game homestand ended on a high note. The Rangers had lost their last four series, and they started the homestand 1-6, before taking three of four from the A's.
Master Tesfatsion is an associate reporter for MLB.com. This story was not subject to the approval of Major League Baseball or its clubs.