A's rally comes up short in finale vs. Rangers
A's rally comes up short in finale vs. Rangers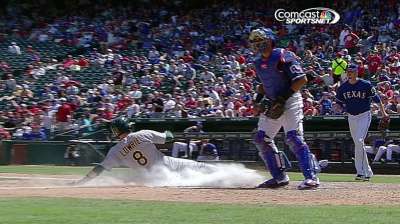 ARLINGTON -- Despite leaving the bases loaded in consecutive innings, for a moment, it seemed as if some late-inning magic would save the A's once again.
Protecting a one-run lead in the ninth, Rangers closer Joe Nathan fanned the first two batters he faced before Josh Donaldson singled to left. Seth Smith followed with a liner to center that fell in front of Craig Gentry and bounced off his chest.
Donaldson saw Gentry hadn't fielded the ball cleanly and made up his mind -- he was going home. It didn't matter that third-base coach Mike Gallego was giving him the stop sign.
"He's gotta be thinking I'm sending him," Gallego recalled. "So I'm pulling him, and then he got to the ball quicker than I anticipated, so I tried to hold him up, but it was too late."
Elvis Andrus took the throw from Gentry and quickly relayed a strike to A.J. Pierzynski, who blocked the plate and tagged Donaldson out to end the game, giving the Rangers a 4-3 victory on Thursday afternoon at Rangers Ballpark.
"As soon as I saw it hit his chest, I was gone," Donaldson said. "It was one of those bang-bang plays. It [stinks] to lose a game that way, but we're going to take that chance."
Instead of salvaging a split in their four-game series against the Rangers, the A's saw their lead in the American League West over Texas cut to one game.
"I was just thinking and hoping he can give me the ball as soon as I saw the runner go," Andrus said. "I tried to release it as fast as I could, and it was a pretty good throw. I'm glad we got the out."
A's starter A.J. Griffin left the game with Oakland leading 2-1 in the sixth. Ian Kinsler drew a leadoff walk and advanced to second on a sacrifice bunt by Andrus before going to third on a fly ball by Nelson Cruz and scoring on a wild pitch by reliever Ryan Cook.
The run was charged to Griffin, who allowed two runs on three hits over 5 1/3 innings, striking out five and walking one. It marked his second-shortest outing of the year and his fifth straight start without a win.
"He gave us 100 pitches and put us in a position where we were ahead, so you can't ask for much more," manager Bob Melvin said. "They played hard every single pitch and every single out. Everything that could go wrong did go wrong."
The A's took one-run leads in the fifth, sixth and seventh innings but lost them all. John Jaso doubled and scored on a Jed Lowrie single up the middle in the fifth to put Oakland on top, 1-0. But Geovany Soto homered to center off Griffin in the bottom half to tie the game at 1-1.
Brandon Moss got a leadoff infield single in the sixth and scored when pinch-hitter Chris Young drew a bases-loaded walk off Jason Frasor. But they couldn't add to the lead once Robbie Ross took the mound. With the bases loaded and no outs, Ross struck out pinch-hitter Adam Rosales, got Coco Crisp to pop out to second and struck out Jaso looking.
Lowrie singled to start the seventh and scored on an error by Andrus, who backhanded a ball in the hole hit by Donaldson, but couldn't throw out Lowrie at third. The ball skipped away and Lowrie crossed the plate to give the A's a 3-2 lead.
Once again, the A's couldn't score any insurance runs. Smith was intentionally walked to load the bases, but Yoenis Cespedes was forced out at home, after a Young ground ball to Adrian Beltre, and Rosales struck out to end the inning.
"It's pretty frustrating, especially with the way we were hitting," Donaldson said. "We had guys on base all day. But they found a way to get out of it somehow."
While the A's didn't cash in on bases-loaded opportunities, the Rangers did. Kinsler delivered the decisive blow, knocking a Sean Doolittle offering up the middle with the bases loaded and two outs in the seventh, bringing home Robinson Chirinos and Pierzysnki for a 4-3 lead.
"I felt like we had that game the entire time," Griffin said. "We played an amazing baseball game. I felt like, in my heart, we won that game. But the standings and the score will say otherwise."
Christian Corona is a contributor to MLB.com. This story was not subject to the approval of Major League Baseball or its clubs.