Bucs ride Alvarez's monster day to win over Reds
Bucs ride Alvarez's monster day to win over Reds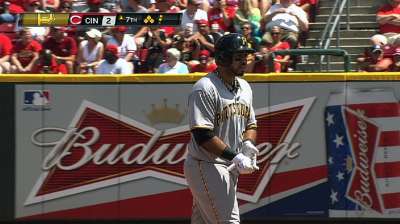 CINCINNATI -- The Pirates entered this week's four-game series with a chance to surpass the Reds for second place in the National League Central. But in the end, it was a wash, as Pittsburgh used Pedro Alvarez's huge day to beat Cincinnati, 5-3, on Thursday to split the series at Great American Ball Park.
"We needed a big day from a number of people today, and Pedro was one of them that gave us the big day with the bat," manager Clint Hurdle said. "It was great to see. Well needed."
Alvarez went 3-for-4 and drove in all five of the Pirates' runs. He tied the game with a solo home run in the sixth, and then the 26-year-old third baseman cleared the bases with a three-run double in the seventh to give Pittsburgh a 5-2 lead.
The game-winning double came off Reds lefty reliever Tony Cingrani, whom Alvarez had already seen twice this series. Each of the first two at-bats ended in strikeouts.
"You just have to be ready to hit with him," Alvarez said. "He's a very tough pitcher, he's got a very good fastball. He's got good stuff. From pitch one to the very last pitch of the at-bat, it's a grind, so you just have to go up there and be ready to battle your behind off with him."
Hurdle used the word "compete" when talking about Alvarez's effort against Cingrani. That's what Alvarez did throughout the game, as two of his hits came with two outs. The key is to take the same approach into every at-bat, Alvarez said about hitting with two outs.
"This game is hard enough as it is," Alvarez said. "There's certain things you can can keep simple, and that's one of them. Keep the same kind of focus every at-bat, and it doesn't matter if it's no outs, one out or two outs. It's all the same situation."
Bucs starter Brandon Cumpton delivered another strong outing in his second career start. The 24-year-old right-hander scattered five hits over five innings while walking one and striking out three. He allowed two runs, but only one was earned.
The first run came by way of Alvarez's only big miscue. Shin-Soo Choo led off the first with a grounder to Alvarez, who threw too high for Gaby Sanchez at first for his 13th error of the season. After stealing second, Choo scored on Joey Votto's single two batters later.
Pittsburgh threatened in the first, with runners on the corners and one out, but Homer Bailey struck out Garrett Jones and Alvarez to end the inning.
The Bucs got on the board in the third, thanks to three straight singles, the last from Alvarez to score Andrew McCutchen. The tie wouldn't last long, as Jay Bruce homered for the third time in the series to give the Reds a 2-1 lead in the fourth.
Cumpton didn't let his mistakes get to him, and Hurdle said the rookie has a "slow heartbeat." After the Bruce home run, Cumpton escaped the fourth with two men on and pitched a clean fifth.
"He settled down," Hurdle said. "And obviously to get out of there with five innings in this ballpark, that's a good effort."
After Alvarez tied the score with his 16th homer of the year in the sixth, the Pirates loaded the bases on singles by reliever Bryan Morris and Starling Marte, and a McCutchen walk, off reliever Alfredo Simon, who took the loss. Reds manager Dusty Baker brought in Cingrani, who struck out Jones before Alvarez converted with the bases-clearing double.
For Morris, who earned the win, it was his first career hit. And according Baker, his hit was the "big blow."
"We don't know if [Morris] can hit or not," Baker said. "He could be a heck of a hitter. The fact that their bullpen was a little short and they were short on the bench a man because they called up another relief pitcher, that didn't surprise me that he hit. It surprised me when he comes through and gets a hit."
Cincinnati added a run off Morris in the bottom of the inning on Jack Hannahan's RBI groundout. With Jason Grilli unavailable after throwing two straight days, Tony Watson came on and closed out the final two innings for his second save of the year.
Pittsburgh moved to 43-30 and climbed back to within a half-game of second-place Cincinnati (44-30) in the NL Central. The Pirates also now hold a 6-4 advantage in the season series. This was Pittsburgh's first series in Cincinnati, though, and Hurdle was pleased with the final result.
"We were asked, 'Is this the biggest series you'll play to date?' For me, it was the biggest series, because it was the next one we were playing," Hurdle said. "But this was a good series for our team to go on the road and have to play in their park."
Jeremy Warnemuende is an associate reporter for MLB.com. This story was not subject to the approval of Major League Baseball or its clubs.