Reds fall to Pirates, split four-game set
Reds fall to Pirates, split four-game set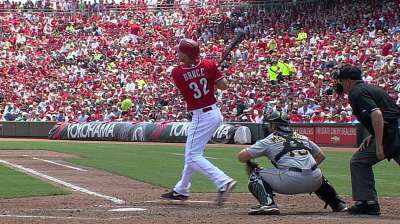 CINCINNATI -- Rookie Tony Cingrani is a left-handed starting pitcher by trade with a not-so-distant future in the Reds' rotation. But in the here and now, Cingrani is a late-inning reliever charged with getting lefties out in high-leverage situations.
The matchup on Thursday afternoon against the Pirates was optimal, as the Reds summoned Cingrani to face a pair of lefty sluggers in the seventh inning. But the situation was anything but optimal, since the bases were loaded when he entered.
Cingrani, working for the second time in less than 24 hours, gave up Pedro Alvarez's three-run double, and the Reds took a 5-3 loss to split the four-game series with the Pirates.
"I felt perfectly fine. I just made a bad pitch," said Cingrani, who is pitching in the role usually filled by the injured Sean Marshall. "It was up and over the middle of the plate."
Alvarez also had a home run and drove in all five Pirates runs.
"It was the third baseman five and us three," Reds manager Dusty Baker said.
It was a 2-2 game when Reds reliever Alfredo Simon took over for the seventh. Simon's first two batters -- pitcher Bryan Morris and Starling Marte -- each hit singles to set the stage for what became a big rally.
"The big blow was the leadoff single to Morris," Baker said, referencing the reliever's first career hit. "The fact that their bullpen was a little short and they were short on the bench a man because they called up another relief pitcher, that didn't surprise me that [Morris] hit. It surprised me when he comes through and gets a hit."
After Jordy Mercer popped out on a bunt attempt, Simon walked Andrew McCutchen to load the bases for Garrett Jones, and Cingrani was brought on.
In Wednesday's 13-inning, 2-1 win over Pittsburgh, Cingrani faced three batters and struck out the side -- including Alvarez.
In an eight-pitch barrage of fastballs vs. Jones on Thursday that featured four foul balls, Cingrani struck him out on a 95-mph pitch. Cingrani was not so fortunate against Alvarez.
"You just have to be ready to hit with him," Alvarez said. "He's a very tough pitcher. He's got a very good fastball. He's got good stuff. From pitch one to the very last pitch of the at-bat, it's a grind, so you just have to go up there and be ready to battle your behind off with him."
Alvarez ripped a 94-mph 0-1 pitch from Cingrani to the right-field corner.
"[Cingrani] said he felt fine today and Manny Parra said he didn't. He was a little sore," Baker said of his decision to use Cingrani. "I expect that to be the case sometimes. It's a matter that he made a pitch up and was trying to go down and away to a hot hitter. He was the hot hitter of the day."
Reds starter Homer Bailey battled through the afternoon, but allowed only two runs over his six innings, with eight strikeouts. But Bailey was twice unable to protect one-run leads. Joey Votto made it 1-0 with a RBI single in the first inning that scored Shin-Soo Choo. Jay Bruce made it a 2-1 game when he lasered a 3-2 pitch from starter Brandon Crumpton over the center-field fence for his team-leading 15th homer. It was also his fifth home run in seven games and third solo shot in the four-game series.
Upon finishing the fourth, Bailey was already at 85 pitches. A 10-pitch, 1-2-3 fifth helped him be able to return for the sixth. But Alvarez made it a 2-2 game by hitting a 1-1 pitch into the right-field seats for his 16th homer.
"We only had one pitch early on," Bailey said. "My split is so big for me all year. I've gotten a lot of strikeouts with it and a lot of outs with it. We didn't have it today at all. My curveball was up. My slider didn't really have what we wanted it to. But we were able to get people out early and kind of limit damage. With the kind stuff I had today and the location -- or lack thereof -- with three pitches, to go six and give up two, I'll take it. But I definitely expect more."
At 44-30, the Reds remained a half-game ahead of the 43-30 Pirates as the two clubs battle for second place in the National League Central behind baseball's best team, the Cardinals.
Through 10 games in the season series, the Pirates have won six and have proven to be a handful for the Reds. Could long-suffering Pittsburgh, with 20 straight losing seasons, be in it for the long haul?
"You have to expect it. You can't write anyone off or assume they're not for real," Bruce said. "They've obviously shown through [73] games that they're serious. That's something I'm sure they're proud of. But it comes down to us playing good baseball."
Bailey believed it also comes down to the Pirates bucking their recent trend of back-to-back fades after hot starts.
"So far, they've really kept up. They're playing really good baseball, and their bullpen has been outstanding. But their bullpen also has a lot of innings. I think it's just going to be on them," Bailey said. "They have a good club, absolutely. They're showing that this year. But the last couple of years, if you follow patterns, they've kind of faded out. I will be eager to see how they do. They're definitely a good club. We're not even halfway through yet."
Mark Sheldon is a reporter for MLB.com. Read his blog, Mark My Word, and follow him on Twitter @m_sheldon. This story was not subject to the approval of Major League Baseball or its clubs.