Peralta's walk-off HR provides much-needed closure
Peralta's walk-off HR provides much-needed closure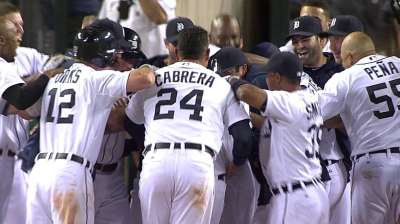 DETROIT -- The Tigers have had their fair share of closer problems lately. It was about time they took advantage of another team going through the same thing.
Until Jhonny Peralta turned on an Andrew Bailey pitch in the ninth inning for a two-run, walk-off homer and a 4-3 win over the Red Sox Thursday night at Comerica Park, the Tigers' bullpen was poised to be the story yet again, this time for a Phil Coke eighth-inning collapse. It'll still be an issue for them going forward.
For at least one game, though, Leyland was content to watch somebody else deal with late-inning questions.
"One-run lead and they walked the leadoff guy in the ninth," manager Jim Leyland said. "That was a backbreaker for them."
Leyland wanted to focus on the positive, and Peralta gave him plenty. For a team that has struggled all season to score late-inning runs, it was a blessing. Detroit's second win in 21 games when trailing after eight innings came off one of the closers that had been rumored as a potential Tigers trade target last offseason.
Andrew Bailey began the ninth with a 3-2 lead, but he had blown saves in two of his previous four outings, and given up runs in three of them. Like Jose Valverde last week, his hold on his closer's job has been shaky.
After missing the outside corner on four of five pitches to Victor Martinez for a leadoff walk, it was about to get shakier. Peralta was 3-for-5 with a double off Bailey for his career. He fouled off a cutter over the plate to fall into an 0-2 hole, but after watch a high fastball go for ball one, he got another chance.
"Just looking at the pitch on replay, [Bailey] gets the ball to the edge," Red Sox manager John Farrell said, "but just enough elevation for him to get under it and drive it out of the ballpark."
Said Peralta: "I was looking for that pitch. I know he throws a lot of sliders, and that's what I was looking for. He left it center of home plate, so I tried to make good contact."
It was Peralta's second walk-off homer in 13 months. His two-run homer against the White Sox last year, too, rescued Detroit from a game in which it fell behind late.
"We tried to pick up every guy," Peralta said. "Coke gave up a run, but we tried to win this game. It's nine innings, so that's what we tried to do."
Boston's go-ahead run an inning earlier came on a David Ortiz single, but Coke's downfall was the back-to-back walks in between. Leyland went with him against the top of the Red Sox's order based on matchups, and he fulfilled the first half by striking out Jacoby Ellsbury on three pitches to end the seventh inning.
Ellsbury was 1-for-9 off Coke while Ortiz was 1-for-15 against the lefty. In between, Coke missed the strike zone on nine consecutive pitches, walking switch-hitter Shane Victorino and the right-handed-hitting Dustin Pedroia to lead off the eighth before falling behind on Ortiz.
The mechanics that seemed so solid in the seventh, Coke said, deserted him when he took the mound for the eighth.
"There's no excuse for any of it," he said. "I'm really displeased with the way I've been throwing as of late, and it hasn't been what it's supposed to be. I think I might be letting that weigh on my mind too much in between outings and so on. I've had a lot of time to think about it lately."
So has Leyland, who has said repeatedly that he has to get his veteran southpaw going. As effective as Drew Smyly has been, Leyland is clearly worried about overusing him. Once Ortiz singled in Victorino, he had little choice to insert Smyly.
"You have to understand something: If you have two or three, four guys that you guys are asking about all the time, and you don't want to use them, that's not good," Leyland said. "They have to be used. They have to pitch.
"Phil Coke, he had a bad night. I'm not mad at him, but if Phil Coke and some of these guys aren't good for us, we're in trouble. I mean, they have to pitch. You can't pitch two guys every night. That's as simple as it is. So if you're not going to pitch him when you've got two guys that are 2-for-24 off of him, I don't know when you're going to use him."
Smyly (3-0) held down the Red Sox from there to get the win.
"It's huge for our team," Smyly said. "We lost a couple against Baltimore, so it's good to bounce back today. We got a big series against them, so it's definitely good to take the first one. Now we just have to focus on taking the weekend."
Jason Beck is a reporter for MLB.com. Read Beck's Blog and follow him on Twitter @beckjason. This story was not subject to the approval of Major League Baseball or its clubs.