Jackson unable to corral Molina in sixth inning
Jackson unable to corral Molina in sixth inning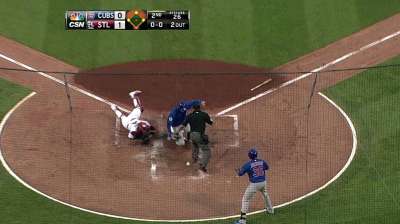 ST. LOUIS -- Before Wednesday's game, Cubs manager Dale Sveum spoke about how good Yadier Molina is, and then the Cardinals catcher proved it.
Molina belted a tiebreaking two-run home run in the sixth to lift the Cardinals and Jake Westbrook to a 4-1 victory over the Cubs, who dropped to 9-23 against National League Central Division teams.
"The adjustments you've seen Molina make, whether it's different stances, different approaches, and all that, that's what it takes sometimes," Sveum said. "That's why Molina is, if not right now, the MVP of the league. Each year, he gets better and better as a hitter."
Edwin Jackson took the loss, ending a brief two-game win streak. The right-hander, who appeared in 13 games (12 starts) for the Cardinals in 2011, gave up six hits over 5 1/3 innings.
"It was a good outing against the best-hitting team in the league -- he did a good job," Sveum said. "We scored one unearned run on two hits. Jackson was going to have to basically pitch a shutout."
And it was one pitch, a two-seam fastball, that cost Jackson the game.
"I felt like it wasn't a super bad outing tonight," Jackson said. "I thought it was a pretty good pitch but either he was looking for it or he guessed right. It was right in his zone. I threw my pitch with conviction, the pitch I wanted to throw. Sometimes that happens."
The Cardinals took a 1-0 lead in the first on Allen Craig's RBI single. The Cubs answered in the second. Anthony Rizzo singled with one out in the second, and was then safe on an error by second baseman Matt Carpenter, who threw a potential double-play ball by Ryan Sweeney into shallow left.
Welington Castillo walked to load the bases, and Rizzo scored on Darwin Barney's sacrifice fly to center. Jon Jay fired a strike to Molina, but Rizzo was safe after his leg knocked the ball loose from the catcher's mitt, causing Molina to muff the throw.
St. Louis had a runner at first with one out in the sixth when Molina connected on his fifth home run, launching a 1-2 fastball into the left-field bleachers. Jackson then plunked Jay with a pitch and was pulled. Carlos Villanueva entered and gave up back-to-back singles, including an RBI hit to Pete Kozma.
"He's on fire -- he's really good," Sveum said. "Another big home run in a big situation. He gave them the lead, and they kept it."
The home run was Molina's third off Jackson in 15 at-bats. It wasn't a perfect game for the catcher, who was charged with an error in the second and a passed ball in the eighth. At the plate, he's 10-for-19 against the Cubs this season.
"Right now, we're hoping he hits the ball at somebody -- he's that locked in," Sveum said. "You really have to make a great pitch now to get him out and make him have a bad swing."
Molina was Jackson's catcher when the pitcher was on the Cardinals in 2011.
"I could say a lot of people know me, but just because a team knows you, doesn't mean they know exactly what pitch you're throwing and when you're going to throw it," Jackson said. "I really don't put too much thought in that. It can go the same way -- I can say that I know them. It's a game of chess. You win some, you lose some. Tonight was a tough loss."
Westbrook was part of the reason, as he combined with two other pitchers on a two-hitter. Besides Rizzo's single in the first, Luis Valbuena singled to open the third but was caught stealing.
"I think once again, it's just like anybody else, when they feel good, they find that rhythm, they find that release point, and he had it," St. Louis manager Mike Matheny said of his starter.
What was encouraging for the Cubs is that Jackson posted his third straight solid outing.
"Earlier, I felt I was kind of mechanical, kind of too much in a bubble, and I had to go back to having fun," Jackson said. "We know it's a job but at the end of the day, it's a game, and we have to go out there and have fun doing so."
The right-hander was 1-8 before these last three starts. Was he thinking too much?
"Just kind of overanalyzing everything," he said. "I won't say I was trying to be too perfect, but it was just too robotic. You have to sometimes allow yourself to do what your body does and allow your athleticism to take over. We're going to make mistakes, we're human. Some balls come back over the plate, sometimes they won't."
And sometimes they guess right, which is what Molina did.
"That pitch was good, in a good location," Molina said. "I was looking inside, so it made it easy for me to get to that pitch. Sometimes you get lucky. I think that was lucky."
Jackson had gotten Molina out twice before in the game with pitches inside.
"I was just trying to go down and get a ground ball with two strikes after he fouled that ball off," Jackson said. "I came back in there, thinking he might be looking away. He hit it well and did what he was supposed to do, especially if he's looking for that pitch."
Which Molina was.
"I [guessed] he was going to do the same thing to me so I was looking for it," Molina said.
"He's one of those players who is a leader," Jackson said. "He can carry a team, he can control a team. He can carry a pitching staff. He knows the game, he's a smart hitter. He's one of those guys you just have to make pitches to."
Carrie Muskat is a reporter for MLB.com. She writes a blog, Muskat Ramblings, and you can follow her on Twitter @CarrieMuskat. This story was not subject to the approval of Major League Baseball or its clubs.