Yadi's homer backs Westbrook's strong outing
Yadi's homer backs Westbrook's strong outing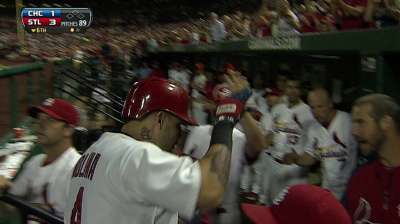 ST. LOUIS -- Yadier Molina has turned in so many impressive performances, raised his Major League-best batting average so high, his Cardinals teammates have found a new way to describe his play.
"We use the term 'joke' around here. He's a joke," Matt Carpenter said. "I mean, the guy, he's that good. You can't say enough good things about him. He's a joke. That's really all there is to it."
And Molina delivered the punch line Wednesday night with a two-run homer in the sixth, breaking a tie in the Cardinals' 4-1 victory over the Cubs.
Chicago starter Edwin Jackson managed to retire the Cardinals catcher twice, but on his third at-bat, Molina showed off his .365 batting average to the crowd of 43,878 with a 385-foot blast to left field on a two-seam fastball.
"He pitched inside twice and got the ground ball. I supposed he was going to do the same thing to me, so I was looking for it," Molina said. "That pitch was good, in a good location. I was looking inside, so it made it easy for me to get to that pitch. Sometimes you get lucky. I think that was lucky."
"Sometimes they guess right, sometimes they guess wrong," Jackson said. "He hit it well and did what he was supposed to do, especially if he's looking for that pitch."
Molina's fifth home run of the season was his only hit of the night, but it came in a clutch situation when the Cardinals were in need of a spark. The St. Louis offense had been mostly dormant through five innings, spare for a run-scoring single from Allen Craig in the first.
"You see certain guys that do have an ability when there's money on the table and when the heat's turned up a little bit, they seem to put together very good at-bats," said manager Mike Matheny. "And Yadi has proven himself. We have a few guys that have proven themselves to be that kind of player."
When asked before the game how his team could get Yadier Molina out, Cubs manager Dale Sveum had a simple answer -- you don't. You just have to hope he hits it at someone.
"He's that locked in," Sveum said. "You really have to make a great pitch now to get him out and make him have a bad swing. It's very hard to make adjustments to those kinds of hitters because they're hitting everything."
In his second appearance since coming off the disabled list, Jake Westbrook effectively stalled the Cubs bats through seven innings, surrendering just two hits while walking three. Westbrook was one of many to heap praise on his batterymate, echoing Sveum's earlier statements that Molina is the National League's MVP.
"With the way he's been hitting, but more importantly the way he's handled us as a staff," Westbrook said. "He has a great game plan and he knows what he's doing back there. Especially with all the young guys that we've had come up, including myself and [Adam Wainwright] as well. He's helped us pitch a lot of good ballgames."
After an eight-hit, three-run performance in his first game back from injury last week, Westbrook struck out two batters Wednesday and had 15 outs on the ground, a signature of the 35-year-old righty's game.
"Even when they got to two strikes and got into full counts, fastball counts, you could see that they were still having trouble doing much with it because it had so much downward movement," Matheny said. "It's just like anybody else, when they feel good, they find that rhythm, they find that release point, and he had it."
The lone Chicago run came after a pair of errors in the second. With Anthony Rizzo on first, Ryan Sweeney grounded to Carpenter. But he couldn't convert on what could have been a double play when he missed on the routine toss to Pete Kozma, recording his third error at second base this season.
"I get it in my hand and as I go to throw it, I could feel it on my right side," Carpenter said. "I had no grip, and it was nowhere close to where I was trying to throw that ball. Just one of those things, it just slipped out of my hand and I just chucked it into [left field]."
Westbrook then walked Welington Castillo to load the bases and Rizzo reached home on Darwin Barney's sacrifice fly. Jon Jay caught Barney's fly ball in center and immediately rocketed it toward Molina, who made the catch, but lost control of it when he made contact with Rizzo on his way home. The play was ruled a sacrifice fly and Molina was tagged with an error as Castillo and Barney advanced to second and third.
Jackson went 5 1/3 innings, allowing four earned runs on six hits, two walks and one hit by pitch.
Trevor Rosenthal relieved Westbrook to start the eighth inning and walked his first batter, but after a visit to the mound by Molina, retired one on a popup and then struck out the next two. Edward Mujica kept his perfect record in save opportunities, converting his 21st save of the season.
Chad Thornburg is an associate reporter for MLB.com. This story was not subject to the approval of Major League Baseball or its clubs.