Phillips comes through with two strikes to win it in 13
Phillips comes through with two strikes to win it in 13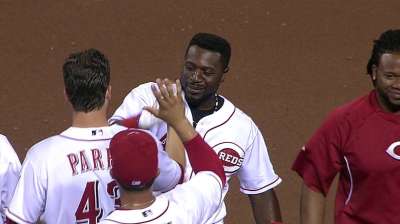 CINCINNATI -- Little has gone well at the plate for Brandon Phillips recently, but late Tuesday night, the Reds' second baseman found himself in a hitting situation that he's often been comfortable with: two strikes.
Phillips' average when hitting with two strikes is the best in the National League this season. And that moment came at the right time in the 13th inning, as Phillips snuck a bases-loaded single up the middle for a 2-1, walk-off Reds win against the Pirates.
"I haven't been myself lately," Phillips said. "To come through like that, I was due. It felt good just to hit the ball up the middle and come through for the team. It was a team effort. We stayed in the game and we really wanted this win."
There was one out in the Reds' 13th, when Derrick Robinson hit a broken-bat grounder to the left side against reliever Vin Mazzaro. Third baseman Pedro Alvarez made a diving stop, but Robinson beat Alvarez's throw from his knees for a single. Robinson went from first to third base on Shin-Soo Choo's lined single to right field. An intentional walk to Joey Votto loaded the bases for Phillips.
"You're not going to let Votto beat you. Phillips, he's hit into eight double plays, so that's the way we went," Pirates manager Clint Hurdle said.
Phillips also entered the at-bat in a 9-for-55 (.164) skid in 13 games since he returned from missing four games with a bruised left forearm. A Tony Watson fastball off the arm on June 1 in Pittsburgh, forced Phillips' absence.
With the Pirates' infield in, Phillips was in a 1-2 count when he hit a high bouncer between the shortstop and second baseman, and into center field for the game-winner.
"That was a huge hit," Reds manager Dusty Baker said. "When you have the infield in like that with two strikes, you have to think up the middle."
It was the first hit with runners in scoring position for either team all evening. The Reds were 0-for-7 before Phillips' hit, while Pittsburgh was 0-for-8 and stranded 14.
"With two strikes, it's all about letting the ball get deep, and you try to think, 'Middle-away,'" Phillips said. "I don't mind hitting with two strikes. If I strike out, I strike out. I don't really strike out that much. Lately, I've been striking out a lot."
Cincinnati seemed poised to be shut out in back-to-back games by the Pirates until Jay Bruce attacked Jason Grilli's first pitch to him for a no-doubt, line-drive homer into the right-field seats to make it a 1-1 game. It was Bruce's team-high 14th homer of the season and the first allowed by Grilli in 2013.
"We were, needless to say, pretty quiet offensively tonight. I'm glad I could extend the game until we took care of business later on," Bruce said.
Grilli entered 25-for-25 in save chances and the Pirates came in 37-0 when leading after eight innings. One night earlier, Grilli won a battle with Bruce, who flied out to center field in the ninth during a 4-0 Reds loss.
"I pretty much got the same pitch last night that I flew out on," Bruce said. "It was good to get that there, because Bronson [Arroyo] did a hell of a job."
The Reds bullpen worked six scoreless innings, capped by lefty Manny Parra. He gave up a two-out infield hit, but worked a scoreless 13th for his first victory as a Red.
Arroyo pitched seven innings and allowed one unearned run on six hits, three walks, and a hit batter with three strikeouts. Pirates lefty Jeff Locke worked seven innings of four-hit ball with three walks and three strikeouts before giving way to the bullpen.
The run Arroyo allowed came after he gave up a two-out Starling Marte triple to left-center field in the third inning. Russell Martin followed with a bouncer to the mound that went off the heel of Arroyo's glove for an error that scored Marte for an unearned run.
"It wasn't hit very hard, but it just had a spin on it and ricocheted," Arroyo said.
For much of the rest of his outing, Arroyo dodged danger. He escaped bases-loaded jams in the fourth and sixth innings. With runners on first and second and two outs in the fifth inning, he picked off Martin at second base to escape.
"I got in a couple of jams, had some weird scenarios and missed that one ball that cost me the run," Arroyo said. "Luckily, Jay Bruce got me off the hook and gave us a chance to win this thing."
Bruce also saved Arroyo in the seventh, when he made a leaping catch at the right-field wall to take away a possible homer from Andrew McCutchen.
"I'm not sure it was going to go out. It would have hit the wall, I think," Bruce said.
The second-place Reds (44-29) gained a 1 1/2 game advantage over 42-30 Pittsburgh in the National League Central. Cincinnati can take the four-game series with a win Thursday afternoon.
"Those guys had a lot more chances than we did," Arroyo said. "They pitched outstanding, and we did, as well. We came out on top today, which was good. It gives us a chance to split a series at worst."
Mark Sheldon is a reporter for MLB.com. Read his blog, Mark My Word, and follow him on Twitter @m_sheldon. This story was not subject to the approval of Major League Baseball or its clubs.