Wilson's gem, Trout's wheels sink Mariners
Wilson's gem, Trout's wheels sink Mariners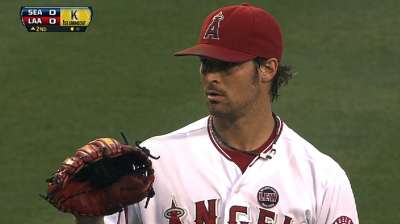 ANAHEIM -- Mike Trout doesn't hit singles; his coaches just happen to stop him at first base. That's his mindset, anyway. It's been that way since the beginning. And it made all the difference Wednesday night, when he turned a simple base hit into the two bases that helped manufacture the game's only run.
"I don't ever really think of a single," Trout said after a 1-0 victory over the Mariners that was influenced by equal parts C.J. Wilson's effectiveness and his own aggression.
"Out of the box, I just told myself, 'Hey, take a chance.'"
The game was scoreless, with Wilson and former Angels starter Joe Saunders engaged in a classic pitcher's duel, when Trout led off the sixth with a base hit to left field. It wasn't really close to the foul line, but it forced the 41-year-old Raul Ibanez to range a few steps to his right. And that's all it took for Trout to motor around first and slide into second safely. Then he moved to third on Albert Pujols' lineout to right field, and then he scored when Saunders' 1-2 curveball to Mark Trumbo bounced off the gear of Mariners rookie catcher Mike Zunino.
Two nights prior, Trout became the fastest player since 1940 (Ted Williams and Barney McCosky) to amass 200 career runs scored.
With speed, skills and savvy like his, it's easy to see why.
"Out of the box, there aren't many times Mike isn't thinking two if it looks like a standard single or thinking three if it looks like a sure double," Angels manager Mike Scioscia said. "He has the ability to do the things that he did today."
An equally critical play came a half-inning later. The Angels were holding their one-run lead and Wilson was in rare trouble, with two on and two out. Wilson had already thrown 112 pitches and was facing the right-handed-hitting Zunino, who would be his last batter. He started him off with a curveball -- almost identical to the one he had just used to strike out Ibanez -- but the upstart catcher was ready for it, blasting it to deep left field.
No worries.
"It's Mike Trout," Wilson said. "Put a cape on him."
Trout read it well, ranged back, leaped just before colliding with the fence and prevented the tying run from scoring.
"Nobody else in the game catches that ball," Mariners skipper Eric Wedge said. "I thought it was going to be out of here, but it must have had a little top spin. But a ball hit that hard and not real high, right over your head, to get back like he did and catch it, nobody else in the game does that."
Trout's catch sealed Wilson's first scoreless outing since June 2 of last year, a span of 37 starts. The 32-year-old lefty gave up only two hits, walked two and struck out three, moving to 6-5 with a 3.61 ERA in 15 starts.
At one point -- between a Kendrys Morales single that traveled about 50 feet up the third-base line and a base hit by Kyle Seager to lead off the seventh -- he retired 14 of 16 batters. And in the end, Wilson made Saunders -- eight innings of one-run ball -- the tough-luck loser while moving to 5-0 with a 2.39 ERA in six starts against the Mariners since joining the Angels.
"You never want to lose 1-0; you always want to win," Wilson said. "I've lost a lot of those games this year already."
The Angels have now won five of their last seven despite totaling three runs in their last 18 innings. They're still 10 games out of first place in the American League West, but at 32-40, they've moved a half-game ahead of the Mariners team they'll wrap up a four-game series against on Thursday.
Small victories at this point.
"It's not one of those things where we're going to wake up tomorrow and be in first place," Trout said. "We have a long way to go. We just have to take it one game at a time."
Alden Gonzalez is a reporter for MLB.com. Read his blog, Gonzo and "The Show", and follow him on Twitter @Alden_Gonzalez. This story was not subject to the approval of Major League Baseball or its clubs.