Grilli's first blown save spoils Locke's start in loss
Grilli's first blown save spoils Locke's start in loss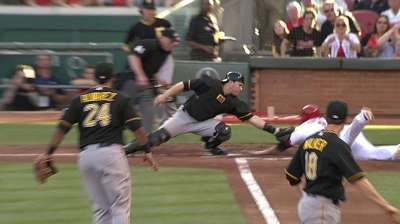 CINCINNATI -- Pirates starter Jeff Locke kept his unbeaten streak alive Wednesday at Great American Ball Park. Closer Jason Grilli couldn't say the same about his own impressive run, blowing his first save of the season en route to a 2-1 loss to the Reds in 13 innings.
After Locke threw seven scoreless innings and Mark Melancon gave up just one hit in the eighth, Grilli came on for the ninth looking to match a club record with his 26th straight converted save opportunity. He forced Brandon Phillips into a lineout to start the inning, but in the next at-bat, Jay Bruce took the first pitch he saw and hit the first home run off Grilli this season to even the score at 1.
Four innings later, Phillips ended it for the Reds, hitting a single off Vin Mazzaro with the bases loaded for the walk-off win.
"It's the life of a relief pitcher," Grilli said. "I like being in those situations, I'll take the ball again. [Bruce] ambushed me. I missed the ball down. I know it's not exactly where I wanted it, he found the barrel and hit it where he hit it. Sometimes you've got to tip your cap. He was being aggressive looking to drive the ball, and he got his pitch."
More than the blemish on his own record, Grilli was upset with himself for forcing a bullpen that's pitched a lot of innings recently to work extra Wednesday night. He said he attacked Bruce with his go-to fastball, and although the result wasn't what he wanted, he wasn't going to sulk over the loss.
"It's hard to be perfect in any facet of this game," Grilli said. "What's a bigger bone of contention is how you bounce back. I'm going to take the ball when it's given to me, and I'm going to go out and do what I've been doing: pitch aggressively."
The Pirates offense squandered its opportunities, as the starting pitching dominated for the second straight game.
Locke gave up just four hits and three walks while striking out three. He has now thrown back-to-back seven-inning shutouts and hasn't lost a decision since his first start on April 7, a stretch covering 13 games.
Manager Clint Hurdle said Locke has done a good job of mixing his three pitches this season, and the same was true against the Reds. Locke's ERA dropped to 2.01, second to only Clayton Kershaw (1.84) in the National League.
"That doesn't really do much for me," Locke said. "I know that I've got guys here I got to do my best to take care of, because they're taking care of me."
On Wednesday, Locke needed just a little more help.
Pittsburgh's only run came in the third, when Starling Marte tripled with two out to center field. In the next at-bat, Russell Martin hit a ball hard back to pitcher Bronson Arroyo, who couldn't handle it, allowing Marte to score and putting the Pirates on top, 1-0.
The Bucs loaded the bases twice in three innings, the first time coming with two out in the fourth. However, it was Locke that came to the plate with the bases full, and he innocently grounded out to Arroyo to end the inning.
Two innings later, the Pirates had an even better chance, loading the bases with just one out after a single, double and intentional walk. Once again, they couldn't convert, as Pedro Alvarez was forced out at home on another Locke ground ball, which was followed by a Marte forceout for the third out.
"We had a chance for separation," Hurdle said. "We didn't get it."
The missed opportunities finally caught up to the Pirates in the ninth. And after pinch-hitter Brandon Inge hit into a double play to end a threat in the 12th, the Reds took advantage in the 13th, when Mazzaro allowed two singles before intentionally walking Joey Votto to load the bases. That led to Phillips' chopper, which just snuck up the middle between Clint Barmes and Jordy Mercer.
"It's about time we won one of those games, especially against them," Reds manager Dusty Baker said. "They've left us on the field many times in Pittsburgh. Our pitching staff did a great job. Our bullpen did a great job. We left some runners out there early. They left runners out there more than we did."
Jeremy Warnemuende is an associate reporter for MLB.com. This story was not subject to the approval of Major League Baseball or its clubs.