Hitting prowess sure to keep Yadi in MVP talks
Hitting prowess sure to keep Yadi in MVP talks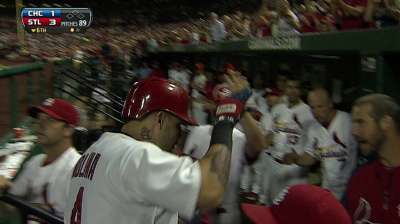 ST. LOUIS -- Yadier Molina, already touting the Majors' best average, watched it tick a few percentage points higher on Wednesday before he ever took an at-bat.
Joe Torre's review of Molina's seventh-inning at-bat on June 11 prompted Major League Baseball to turn what the official scorer ruled a two-base error into a two-base hit for Molina. The reversal gave Molina another multi-hit game and increased his season average from .363 to .367.
Molina, who finished fourth in the National League MVP voting a year ago, will put himself in strong consideration again if he continues to complement his superb defensive game with this type of offensive production. He has hit safely in 54 games and leads the league in multi-hit games (29) and doubles (23).
"He's turned himself into one of the better hitters in the game," Cubs manager Dale Sveum said. "The adjustments you've seen Molina make, whether it's different stances, different approaches, and all that, that's what it takes sometimes. That's why Molina is, if not right now, the MVP of the league. Each year, he gets better and better as a hitter. Each year, too, you see some other little adjustments he's made in his hand position or his stance or backside. That's a lot of times what hitters need to do is make little adjustments or sometimes big adjustments to get to another level."
Molina, who continues to pride himself more in what he does defensively, has no interest in highlighting his offensive success just yet. Asked this week about leading the Majors in hitting, Molina smiled and answered, "Next question."
Molina has maintained the high level of production, too, while dealing with the rigors of catching almost every day. He has started more games (66) than any catcher in baseball and is one of just two National League catchers to have already logged 500 innings behind the plate. He surpassed that number a long time ago, too, as he entered Wednesday having caught 573 innings.
"It's impressive to watch the way he goes about it every day," Matheny said. "Every at-bat, he embodies the philosophy we like to have. He goes up with a very consistent approach and his execution in situations, he's selfless when he needs to be and he's able to come up with the big hits at the big time. Then you always have to keep in mind the demands that come from that position are greater than anything expected from anyone else out on the field. The whole story is pretty impressive."
Jenifer Langosch is a reporter for MLB.com. Read her blog, By Gosh, It's Langosch, and follow her on Twitter @LangoschMLB. This story was not subject to the approval of Major League Baseball or its clubs.