Saunders drops duel with Angels' Wilson
Saunders drops duel with Angels' Wilson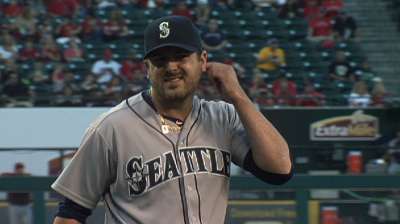 ANAHEIM -- Maybe it's time to drop concerns about Mariners southpaw Joe Saunders not being able to pitch outside of Safeco Field.
Though the Angels emerged with a 1-0 victory behind a gem from C.J. Wilson on Wednesday night, Saunders certainly did his part against his former team as he allowed just the single tally in eight strong innings for his second complete game of the season.
The veteran had a dramatic storyline early in the season when his home-road splits were so drastically different that he was nicknamed "Safeco Joe." But Saunders has been strong wherever he's thrown in his past five starts, including another gem at Angel Stadium.
Mike Trout created the only run in the sixth when he turned a base hit to left into a hustle double, moved to third on an Albert Pujols flyout to right field, then scored on a wild pitch on a low ball in the dirt that got away from rookie catcher Mike Zunino.
"It was a tough one," acknowledged Saunders, "but I'm more mad at myself for letting the run score on a wild pitch. It was one of those things where runs were hard to come by tonight. So tip your cap and try to move on."
The Mariners were doing a lot of cap tipping in Trout's direction, as the 21-year-old standout hurt them with his glove as well, hauling in a deep drive by Zunino at the top of the fence in left field with two on and two out in the seventh.
"Nobody else in the game catches that ball," said Mariners manager Eric Wedge. "I thought it was going to be out of here, but it must have had a little top spin. But a ball hit that hard and not real high, right over your head, to get back like he did and catch it, nobody else in the game does that."
Zunino didn't think the ball was going to be out when he hit it, but even in just his first week in the Majors, he knew the Angels outfield defense was special after center fielder Peter Bourjos tracked down a Kendrys Morales ball with another top-of-the-wall catch in the fourth.
"I got it a little off the hands. I was trying to get a fastball early and [Wilson] ran it in there," Zunino said. "I knew I hit it well, but I mean, at night it doesn't travel too well here. But their whole outfield can really play. It's a valuable weapon for them. Trout's obviously a great defender and he's done it many times before."
As for Trout's create-a-run effort in the sixth, the fleet youngster never hesitated in challenging Raul Ibanez's arm after the Mariners left fielder tracked down what appeared a standard base hit.
"I don't ever really think of a single," Trout said. "And if a ball is hit in the gap, I'm always thinking three, until Dino [Ebel, the third-base coach] holds me up or I see something in the outfield. Out of the box, I told myself, 'Hey, take a chance.'"
"Not too many guys get to second base on that play," said Wedge. "Ibanez did a nice job, got over there, cut it off, made a good throw. But Trout was thinking double out of the box and he cut first base good and got there quick."
Zunino said Trout's speed didn't factor into the wild pitch that brought home the only run, however.
"It was a changeup just down and away that sped up on me a little bit," he said. "We're obviously trying to be careful there in that situation and wanted to keep the ball down in the zone. If that ball pops away, anybody scores."
Saunders has a 1.82 ERA over his last five starts, including road outings in San Diego, Oakland and now Anaheim, but lack of run support has left him with a 2-2 record in that span.
Though his road record dipped to 1-5 with a 6.46 ERA, he obviously deserved better in this one. Pitching for just the second time against his former team since being traded to the D-backs in July 2010, Saunders gave up just six hits with two walks and three strikeouts.
"Joe was good," said Angels skipper Mike Scioscia. "His fastball had a little more life than a couple years ago, so he's feeling pretty good right now and he pitched a strong game for those guys. He did a lot of the things we saw when he was pitching for us -- got the ball down, changed speeds well. We were fortunate we got the run off him."
Saunders lost at Angel Stadium last June in 2-0 decision when Ervin Santana nearly threw a no-hitter against his D-backs and is now 25-20 in 65 career starts at the Anaheim park.
"It was two 'hang-with-'em' starts," Saunders said. "Nothing else you can say. We didn't score any runs. I lost, 2-0, in that game, and he was like perfect through 8 1/3 or some stupid thing. I just picked the wrong days to pitch, really."
Angels southpaw Wilson matched zeroes with Saunders for seven innings, with the Mariners managing just an infield single by Morales and a pair of walks in the first six frames.
Morales reached base leading off the second on a little popup to the left of the mound that Wilson had an easy bead on before pulling his mitt back at the last second as the ball fell in for what was ruled an infield single.
That was Seattle's only hit until a leadoff single by Kyle Seager in the seventh. Michael Morse was hit in the toe one out later to put runners on first and second, but Trout followed with his excellent catch in left to end that threat and send the Mariners to their sixth shutout of the season.
Greg Johns is a reporter for MLB.com. Follow him on Twitter @GregJohnsMLB as well as his Mariners Musings blog. This story was not subject to the approval of Major League Baseball or its clubs.