Willingham to DH until knee feels better
Willingham to DH until knee feels better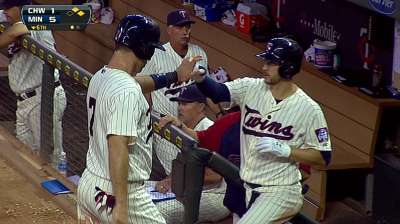 MINNEAPOLIS -- Josh Willingham's left knee continued to bother him in Tuesday's game, so he started at designated hitter on Wednesday against the White Sox.
Willingham missed Saturday's and Sunday's games with soreness in his left knee and had a cortisone shot in his knee Saturday night. He came back after Monday's off-day and felt good enough to start in left field on Tuesday, but his knee didn't react the way he wanted it to in his first game back.
"It's not perfect right now -- I can tell you that," Twins manager Ron Gardenhire said. "We'll see how this DH thing goes, but it wasn't a great night last night as far as him running around on his leg. So I'm a little concerned."
Gardenhire said he'll continue to start Willingham at DH until his knee feels better, as it usually takes a few days for the cortisone shot to fully set in.
"He's still fighting through it," Gardenhire said. "Last night wasn't perfect. It feels better, but it wasn't great during the game. So we'll see how it goes today. He didn't feel great, so we talked about it."
Willingham finished Wednesday's victory 2-for-4 with two runs scored and an RBI.
Rhett Bollinger is a reporter for MLB.com. Read his blog, Bollinger Beat, and follow him on Twitter @RhettBollinger. This story was not subject to the approval of Major League Baseball or its clubs.