Dozier hits leadoff against White Sox lefty
Dozier hits leadoff against White Sox lefty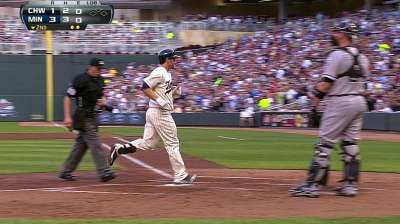 MINNEAPOLIS -- With left-hander Chris Sale on the mound for the White Sox on Wednesday, Twins manager Ron Gardenhire opted to move second baseman Brian Dozier up to the leadoff spot in the order.
Dozier, who began the day hitting .278 with a .372 on-base percentage against lefties, replaced the left-handed-hitting Clete Thomas, who had served as the club's leadoff hitter for the previous three games. Thomas moved down to the No. 8 spot in the order.
"Dozier's on-base percentage is like .370 against lefties, so you just take a chance because [Sale] is pretty good and eats up lefties," Gardenhire said. "I think they're hitting like .075 against him. So you just try to do the best you can. The lineup is what it is."
Gardenhire said Dozier's move to the top of the lineup isn't permanent, as he's still looking for more production out of the leadoff spot. Twins leadoff hitters entered play Wednesday having combined to hit just .177 with a .232 on-base percentage.
Dozier went 1-for-2 with a three-run homer and a hit-by-pitch against Sale in leading the Twins to a 7-4 victory.
Rhett Bollinger is a reporter for MLB.com. Read his blog, Bollinger Beat, and follow him on Twitter @RhettBollinger. This story was not subject to the approval of Major League Baseball or its clubs.