Indians looking to cut down costly mistakes
Indians looking to cut down costly mistakes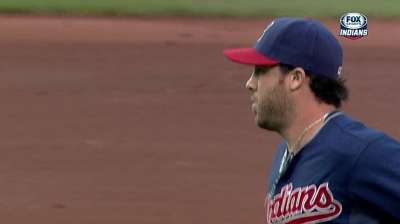 CLEVELAND -- The Indians opened their nine-game homestand with a 3-2 record following Tuesday's 4-3 win over the Royals, but that's largely been despite their defense, not because of it.
Over those last five contests, the Tribe committed six errors and six wild pitches. Second baseman Jason Kipnis said there's no real way to explain an error -- or a bunch of them -- and he believes defense is one of Cleveland's strengths.
"Sometimes, you're mentally locked in more than other days," said Kipnis, who made a nice diving stop in Tuesday's win. "Sometimes, you're clicking on all cylinders on both sides of the ball, on offense and defense. It just comes down to kind of a little bit of being accountable and taking defense as serious as you take offense. A lot of guys worry about hitting and how they're going at the plate, and don't really take the full, I guess, concern out to defense. But, I think that happens all around the league."
Defensive miscues played a role in both losses. On Saturday, Washington's Anthony Rendon hit a two-out, go-ahead home run in the ninth inning, moments after a catchable popup landed between Nick Swisher and Kipnis in foul territory. Then, on Monday, Kansas City scored the go-ahead run in the ninth inning, when a curveball from reliever Matt Albers went though Carlos Santana's legs for a wild pitch, allowing Elliot Johnson to score from third.
"The only way it's deflating is that we know we're not making the other team earn it as much," Kipnis said. "We're shooting ourselves in the foot a little bit. That being said, they happen to every single team. They're part of the game. We trust our catchers back there and it's going to happen, we know that. It just comes down to really concentrating on defense and making sure everyone's doing their job."
Mike Aviles had a pair of errors on Saturday, and John McDonald, Mark Reynolds and Cody Allen have each been charged with one, in addition to Swisher. Albers and Ubaldo Jimenez have each unleashed two wild pitches, while Justin Masterson and Scott Kazmir both had one.
Santana has been behind the plate for all six wild pitches of the homestand. Overall, 31 have gotten away from him, more than any other catcher in baseball.
"I know he's putting in a little extra work with Sandy [Alomar Jr.]," manager Terry Francona said. "I think he's got into a little bit of a rut where he's getting high, and then balls are getting down below him a little bit."
Yan Gomes caught Sunday's game, which was the only one of the homestand that did not feature a wild pitch.
"With the wild pitches and stuff like that, it just comes down to the pitcher and catcher," Kipnis said. "It comes down to blocking the ball up and, I know sometimes it just happens, sometimes the ball just skips away. It's definitely an important part of the game where the pitcher, in a big out or a big situation, wants to be able to trust the catcher to throw that breaking ball in the dirt to try to get the hitter to swing at it.
"I mean, everyone knows, Santana's working hard back there. He's trying what he can. But, right now, it's happening. It's unfortunate. There's no way to explain it other than that he's trying to do what he can back there. It's just been happening, that's all."
Mark Emery is an associate reporter for MLB.com. This story was not subject to the approval of Major League Baseball or its clubs.