Rodriguez owning up to baserunning gaffe
Rodriguez owning up to baserunning gaffe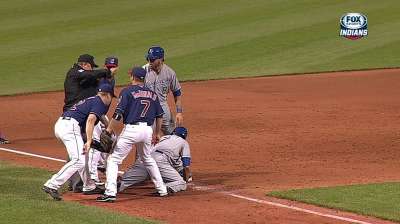 CLEVELAND -- Third-base coach Eddie Rodriguez shouldered the blame for the baserunning blunder that cost the Royals dearly in the ninth inning of Tuesday night's 4-3 loss to the Indians.
"I should've been sending him all along," Rodriguez said.
But Rodriguez threw up his hands, stopping David Lough just a few strides from scoring the tying run. The play resulted in the second out, the inning ended scoreless and the game was over. Afterward, Lough took the blame but Rodriguez absolved him.
"Hindsight, now looking at it, I shouldn't have held him up. In that situation, you've got to force the envelope there and take a chance," Rodriguez said. "It's not on David. I've been aggressive all year and I look back at it, knowing obviously what happened, I have to ask myself why, in that situation, I wasn't as aggressive as I've been all year."
Lough was at second base and Mike Moustakas was at first with no outs, when Chris Getz failed to bunt and struck out, the first failure of the inning. Alcides Escobar lined a single to right fielder Drew Stubbs, who took the ball on one bounce.
Rodriguez had assessed the situation previously.
"It's a center fielder playing right field, No. 1," he said. "I know he has good arm strength. Reports that I have read: very good and rangy. So all of that coming into play. ... He's playing shallow. .. But the intangible there is, he kind of went to his left, the ball carried him to his left, and it's a one hop."
By moving to his left, the right-handed Stubbs had to take the time to turn before throwing home, adding to Lough's advantage. His throw drew catcher Carlos Santana off the plate toward the first-base dugout as well.
"It's a good opportunity to force the defending player to execute the play and I didn't do that," Rodriguez said.
"He would have scored standing up," manager Ned Yost said. "The throw was off-line."
Instead, Lough was caught in a rundown, had to retreat to third base, by then also occupied by Moustakas, who was tagged for the second out.
The best scenario would have been Lough scoring the tying run. Second best, Lough stopping safely at third and giving next batter Alex Gordon a shot with the bases loaded and one out. Neither happened. Gordon walked, but Eric Hosmer grounded out and the Indians were shaking hands on the infield.
Yost acknowledged Rodriguez's mistake, but defended his coach's skills at a difficult job.
"Eddie's real good, Eddie's scored a lot of runs for us this year. I mean, a ton of great calls," Yost said.
Yost coached third base for the Braves for four years.
"The toughest thing about it is, you can't be afraid. Bobby Dews was the third-base coach for two years before I took over," Yost said. "Bobby told me: 'You can coach third base two ways: one to win, or one to cover your rear end. Don't ever coach third base to cover your rear end. You always coach to win.' "
That's always been Rodriguez's style.
"There's no doubt, I should've taken the chance," he said.
Dick Kaegel is a reporter for MLB.com. This story was not subject to the approval of Major League Baseball or its clubs.