Sale works five rocky innings in fourth straight loss
Sale works five rocky innings in fourth straight loss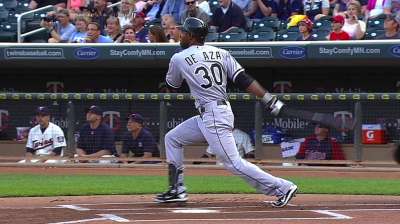 MINNEAPOLIS -- Despite a game-opening home run from Alejandro De Aza, a pair of tough outings from ace Chris Sale and reliever Deunte Heath unraveled the White Sox in a 7-4 loss to the Twins at Target Field on Wednesday.
A usually solid Sale struggled, pitching only five innings and giving up four runs on eight hits and two walks -- one intentional -- and striking out five.
"I think tonight is not a normal night for Chris," White Sox manager Robin Ventura said.
Sale's four earned runs tied for the second most he's given up this season -- the other four-run game was a 4-3 loss to Oakland on June 2. The only time he gave up more than four runs was a 9-4 loss at Cleveland on April 13.
"I didn't have good command," Sale said. "I was coming out of myself. I just kind of need to gather myself and get the flow again and regroup next time out."
Sale took to the mound in the first with a 1-0 lead after De Aza led off the game with a home run -- his fourth leadoff homer of the year and the eighth of his career. But one inning later, the left-hander gave up two hits en route to a 3-1 Twins lead. With two outs and two runners on, Sale gave up a three-run shot to Brian Dozier, bringing in Oswaldo Arcia, who reached on a one-out single, and Clete Thomas, who walked.
During the second, Sale had two close calls: First, he flipped over on the mound after being hit by Arcia's comebacker and two batters later, as he made the out at first, his foot slipped out from under him, slightly twisting his knee. Sale said the incident at first base gave him a bit of shock and while he was fine physically, the moment seemed to get him off his game.
"After that, they got him," Ventura said. "It's just one of those, I don't know how much, but it was enough that it got him off his game enough. They had some good at-bats, started putting some guys on base, started putting some pressure on him."
"I wouldn't say that had anything, any lingering effects on the game," Sale said. "Nothing was hurt by that time … that was a non-issue."
The Twins added another run in the third when Trevor Plouffe came up with an RBI single to score Josh Willingham, who reached on a single.
Sale got through two more innings without any more damage and gave way to Heath, who started the sixth inning.
Heath gave up two walks, two hits and a home run to five of the six hitters he faced in the sixth. Willingham hit a two-out RBI single, which brought in Joe Mauer, who reached on a hit and advanced to second on a wild pitch. Justin Morneau provided extra security with a two-run homer to right field -- his first home run since April 28 -- to make it 7-1.
"I was sure hoping it was going to be gone," Morneau said. "That's for sure. It had been a while. So it was a good feeling. It was a good game for us. It's the monkey off my back, so hopefully we can get rolling here."
Twins starter Kevin Correia pitched 6 2/3 innings, but he didn't exit the game before giving up one more run to the White Sox. Conor Gillaspie hit a two-out double and scored on Dayan Viciedo's single to make it 7-2.
Correia left before getting the final out of the seventh and gave up two runs on five hits and struck out six.
The White Sox eventually got to Twins right-handed reliever Ryan Pressly in the eighth. Tyler Flowers led off with a hit and two batters later, he moved to third as Alexei Ramirez hit a double down the left-field line. Twins lefty Brian Duensing took over with two outs and two on, promptly giving up a two-run single to Adam Dunn to make it 7-4.
With run support coming late in the game, Ventura said it leaves pitchers with a difficult mindset when they take the mound.
"It's tough, even for [Sale]," Ventura said. "You feel like you have to throw up a one or two to be able to survive in that. That's not good for any pitcher to go out there and think that they have to do that."
Twins closer Glen Perkins came in for the ninth and posted his 18th save.
Kelly Erickson is an associate reporter for MLB.com. This story was not subject to the approval of Major League Baseball or its clubs.