Lind's blast leads Blue Jays to eighth straight win
Lind's blast leads Blue Jays to eighth straight win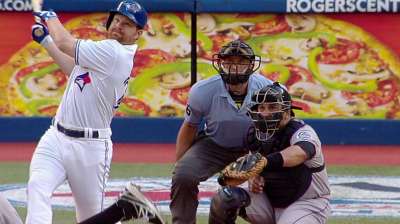 TORONTO -- Some early run support was all the Blue Jays' pitching staff needed to carry them to their eighth straight victory on Wednesday.
Adam Lind provided the thump with a three-run home run in the first inning, and Toronto never gave up the lead, defeating the Rockies, 5-2, at Rogers Centre.
"Getting those three runs early was a big help," said Blue Jays starter Mark Buehrle, who was the biggest beneficiary of the early lead. "[You] can kind of relax a little bit and know if you make a mistake and give up a home run, you still got a lead. It was big to get those runs."
Lind's three-run shot came off Rockies starter Juan Nicasio, and continued a very hot couple of months for the Blue Jays first baseman/designated hitter.
Making his recent streak surprising is that it comes just over a year after the 2009 Silver Slugger Award winner was removed from the Blue Jays' 40-man roster.
"Surreal," said Lind about how he feels considering where he was at this time in 2012. "Couldn't have written that script."
Lind came to the plate in the first after Jose Bautista reached on an error and Edwin Encarnacion singled. On a 2-1 changeup, Lind hit his ninth homer of the year, a blast into the first deck in right.
"Just got into a hitter's count, he threw me a pitch over the plate to hit, and I was fortunate enough to hit it on the sweet spot," said the 29-year-old, who is batting .397 with five home runs and 17 RBIs in June.
The homer was enough for Buehrle, who battled in his five innings.
The veteran lefty was hit hard by the Rockies, particularly early, but managed to limit the damage. The hardest shot came from Carlos Gonzalez, who cleared the fence in right in the fifth inning for his National League-leading 21st homer to cut the Blue Jays' lead to 4-2.
"Today was a lucky day," Buehrle said. "[In] back-to-back starts I had some good stuff, location, getting ahead in the count. Today there was a lot of pitches that I missed over the plate. There was a lot of pitches I got away with today."
Buehrle allowed two runs on eight hits and a walk with four strikeouts. Despite his struggles, the performance was enough to continue a string of good outings for Buehrle, who has a 2.13 ERA over his last six starts, with 28 strikeouts in 38 innings.
"It was a battle for [Buehrle] today," Blue Jays manager John Gibbons said. "It was a gutsy outing. He wasn't on. He was always up a little bit today. But he did what he does best, he kept them off balance."
It was Buehrle's shortest outing since April 10 against Detroit, when he pitched only 4 1/3 innings.
"It's frustrating only going five innings today, but when your bullpen's pitching that good, turn it over to them and you know what they're going to do," Buehrle said.
After Buehrle left, the bullpen dominated, as it has all season. Neil Wagner, Brett Cecil, Steve Delabar and Casey Janssen, who earned his 16th save, combined for four shutout innings, striking out seven and allowing one walk and one hit. Delabar struck out the side in the eighth.
Among those innings was a team record from the resurgent Cecil, who like Lind, found himself spending time in the Minors last season.
Cecil pitched a flawless seventh inning with two strikeouts. After striking out Michael Cuddyer for the second out, he set a club record for facing the most batters in a row without allowing a hit.
When the inning was over, the lefty had faced 38 straight batters without allowing a hit, beating David Cone's mark of 36 that ended on June 17, 1995.
"It kind of speaks for itself," Gibbons said.
Said Cecil: "It's still sinking in. Of course I'll think about it tonight and the off-day, and then Friday I'm thinking about Orioles hitters."
Although he appreciates the roll he's been on and the record he's set, he said it's not what drives him.
"I'm not here to break records, I want to win a World Series," Cecil said.
The Blue Jays have won eight in a row and 11 of 13, and the Rockies didn't have much to show for in their first trip north of the border since 2007.
"It's just a tough road trip, but you can't carry this everywhere," Gonzalez said. "[Toronto] has been playing really good baseball, and we didn't play good at all. We're going to go and play a different series with a different team and try to win games."
For the Blue Jays, they take their winning streak into an off-day before a stretch of 10 straight games against division opponents begins on Friday, when the Orioles come to town.
Said Gibbons: "Everything's clicking right now. You almost hate to have a day off tomorrow."
Evan Peaslee is an associate reporter for MLB.com. This story was not subject to the approval of Major League Baseball or its clubs.