Ambriz unable to back Bedard's stellar outing
Ambriz unable to back Bedard's stellar outing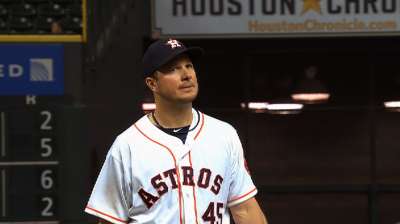 HOUSTON -- On the verge of securing a second straight series win with a one-run lead and one out in the eighth inning, the Astros turned to their bullpen.
Milwaukee second baseman Rickie Weeks made sure the move was a regrettable one, connecting on a two-run homer to erase another spectacular outing from Astros starter Erik Bedard and stun Houston, 3-1, on Wednesday night in Minute Maid park.
The loss evened the teams' three-game set at one game apiece, setting up a rubber match Thursday between the former National League Central rivals.
Despite throwing a season-high 7 1/3 innings with just one run allowed, Bedard didn't have to wait long to see that work unravel. The lefty walked Josh Prince to open the seventh before Logan Schafer bunted Prince over to second base.
According to Astros manager Bo Porter, Bedard got the nod for the eighth inning -- which he hadn't pitched into all season -- because he asked for it and his pitch count was still below 90.
"Bedard was outstanding, and he wanted [to go back out]," Porter said. "He gave us everything he had, too. He went back out there to start the eighth with the notion we were going to take him through Weeks. He did a tremendous job and pitched well enough to win."
Porter pulled Bedard after the sacrifice, instead going with righty reliever Hector Ambriz, who left a 1-2 slider over the middle of the plate that Weeks whacked into the left-field seats.
"I just hung it," Ambriz said. "I didn't execute the pitch and [Weeks] did what he was supposed to with it."
It was the first home run Ambriz allowed since May 17 vs. Pittsburgh, a span of 14 appearances. The dinger also broke up a 14 1/3-inning scoreless run for Astros pitching going back to the third inning of Tuesday's game.
He didn't wait as long to serve up another. Aramis Ramirez drilled Ambriz's second pitch of the ninth inning into the Crawford Boxes.
"That was just a 1-0 hanging curveball," Ambriz said. "That's an easy one to hit hard and [Ramirez] did exactly that."
Jose Altuve did most of what little damage the Astros could muster off Brewers starter Kyle Lohse, going 3-for-4, swiping three bases. The diminutive second baseman twice stole third without a throw and scored the only Astros run in the first inning.
With one out, Altuve notched a base hit and moved to second base on Jason Castro's walk. He then swiped third and J.D. Martinez's fly ball was ripped to right, nearly catching Castro too far off first on a steal, but allowing Altuve to comfortably trot home.
"I know [Lohse] likes to throw a lot of junk, scrape the plate, so I was looking for something on the edges," Martinez said. "I was just trying to hit something back up the middle and I got a slider that I just pushed out to right.
"Jose had it easy, but I was yelling at Jason to get back, get back."
Following that sequence, though, the offense was an afterthought one night after Houston pounded out 10 runs and two homers. Bedard and Lohse went toe-to-toe with both escaping a few jams, but otherwise keeping Minute Maid Park far quieter than the massive thunderstorm that raged outside during the early innings.
Bedard's now allowed two runs or less in seven of his past eight outings, and he matched a season-high eight strikeouts on 98 pitches, 67 of them strikes.
"The biggest thing was he must have had five or six strikeouts with the little two-seamer in, front-door sinkers in," Weeks said of Bedard. "It worked for him tonight [and] you couldn't really do nothing about that. It seemed like the ball started two feet in and would end up on the plate."
That kind of blow-by stuff aided Bedard's low breaking pitches, which helped induce 10 groundouts.
"My curveball was really good, so I got my fastball working too and it made my secondary pitches that much easier to command," Bedard said. "I went out there and definitely gave it the best I could."
Lohse basically matched him, settling in after the first inning and twice staving off multiple Houston baserunners to toss six innings of six-hit ball. He struck out five and walked only two over 96 pitches and allowed no one but Altuve past second base.
It's the second straight pitcher's duel Bedard has found himself in after barely edging White Sox ace Chris Sale in a 2-1 win on Friday. Porter said he believes the veteran southpaw has gotten stronger over the course of the season, culminating with Bedard now going at least seven innings two of his last four times on the mound.
"I'm not changing anything, but you keep training hard and throwing to where you know you're capable of," Bedard said. "It's nice to see the hard work get results, but bottom line we didn't get the win tonight."
Altuve's double-play partner, Ronny Cedeno, was the only other Astro to muster multiple hits, lacing two base hits off Lohse.
Chris Abshire is an associate reporter for MLB.com. This story was not subject to the approval of Major League Baseball or its clubs.