Weeks' eighth-inning blast lifts Brewers
Weeks' eighth-inning blast lifts Brewers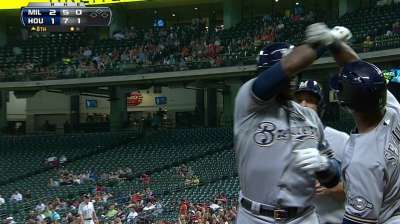 HOUSTON -- Something happened for Brewers second baseman Rickie Weeks about a month ago to begin thawing his early-season freeze. Maybe things changed when manager Ron Roenicke began working in some days off for Weeks. Maybe it was when the Brewers promoted some competition in second base prospect Scooter Gennett. Maybe it was just time.
Whatever it was, Weeks is back to swinging a productive bat for a team sorely in need of them, the latest evidence his go-ahead two-run home run in the eighth inning Wednesday that sent the Brewers to a 3-1 win over the Astros at Minute Maid Park.
"I'm just swinging better, I guess," Weeks said. "I can't pinpoint anything like that."
In some ways it felt like a flashback to 2011, when Weeks was a National League All-Star before suffering a serious ankle injury, and the Brewers won so often with quality starts, shutdown relief and late, clutch hits. That was the formula on Wednesday, when Kyle Lohse held Houston to a run over six quality innings and John Axford, Jim Henderson and Francisco Rodriguez put zeroes on the scoreboard the rest of the way. Axford was rewarded with the victory for his 17th consecutive scoreless appearance, and Rodriguez logged career save No. 299.
Along the way, the Brewers found the sort of timely hits they have been missing. Shut out by Astros starter Erik Bedard into the eighth inning, Weeks greeted reliever Hector Ambriz with a go-ahead home run into the Crawford Boxes to erase a 1-0 Houston advantage that had held since the first inning, and Aramis Ramirez added an insurance homer in the ninth, his first since May 17 in St. Louis.
The Brewers evened the three-game Interleague series at one apiece.
"That's a good ballgame to win," manager Ron Roenicke said. "They got a slider up to [Weeks], and that's a big hit. We've been needing big hits, and that's a big hit."
Weeks lauded a Brewers pitching staff that scattered 10 singles and held Houston 0-for-6 with men in scoring position.
"When you're talking about baseball, pitching comes first," Weeks said. "When we have a game like that, it boosts the spirits up around the clubhouse."
Speaking of boosted spirits, take Weeks, whose average slipped as low as .167 on May 21. He homered for the third time in June and, with a 2-for-4 night, is batting .351 (20-for-57) over his last 18 games, with at least one hit in each of his last 14 starts.
What sparked the turnaround?
"He started swinging the bat a lot better right before [the team] brought Scooter up, and once Scooter got here, we kind of matched up and [Weeks] has been swinging the bat better," Roenicke said. "So it's hard to say whether it's just the timing of it or it is the matchups, but I left him in [with] the right-hander and he got the big hit against the righty."
That righty was Ambriz, who inherited a runner on second base with one out and worked ahead of Weeks with two strikes. But Weeks fouled off one slider, looked at another in the dirt and then connected with a third consecutive slider that was up in the strike zone.
"I'm pretty sure Hector would love to have that pitch back and make more of a quality pitch," Astros manager Bo Porter said. "Unfortunately, he did not, and Rickie Weeks put a good swing on it."
The question was whether Weeks' big night would earn him another start Thursday against Astros right-hander Lucas Harrell, or whether Roenicke would play the lefty-righty matchup with Gennett. Weeks is 0-for-3 in his only game against Harrell.
Roenicke said that of Gennett continues to play good defense and remains reasonably productive at the plate, the loose platoon system would continue.
"For now, I like what they're doing," Roenicke said. "Whether it pushes each other, I don't know. But they're both doing a good job."
Weeks declined to offer an opinion.
"I can't say anything about that right now," he said. "It's just one of those things where I show up and, if my name is in the lineup, I have to go out there and do my job."
Before Weeks' blast against Ambriz, the Brewers had done little against Bedard, who surrendered only Martin Maldonado's third-inning single over his first five innings, and stranded two runners in the sixth and one in the seventh.
Bedard was mostly matched by Lohse, who seemed destined for another tough-luck loss after allowing only one run in six innings. It came in the bottom of the first inning, when Jose Altuve reached on an infield hit, advanced on a walk and stole third base without a throw before scoring on J.D. Martinez's sacrifice fly.
Lohse, who owned the poorest run support in baseball before he beat the Phillies, 9-1, on June 9, scattered five more singles and a walk over the next five innings before exiting at 96 pitches. It was his fourth consecutive quality start.
"It was one of those starts where I didn't have my best command," Lohse said. "When you can't get your slider over and that's a big part of your pregame plan, you just kind of have to go into salvage mode I guess.
"Maldy [Maldonado] called a great game to keep us in it. I made pitches when I had to, got big outs. It was one of those games that six, seven years ago, I'm probably out of there in three innings because the stuff wasn't working. I found a way to battle and get through it."
He was content to remain at 2-6 this season, with an ERA down to 3.68.
"I'm not going to be selfish about it," Lohse said. "I want this team to get going in the right direction."
Adam McCalvy is a reporter for MLB.com. Read his blog, Brew Beat, and follow him on Twitter at @AdamMcCalvy. This story was not subject to the approval of Major League Baseball or its clubs.