Soreness gone, Price to make rehab start Friday
Soreness gone, Price to make rehab start Friday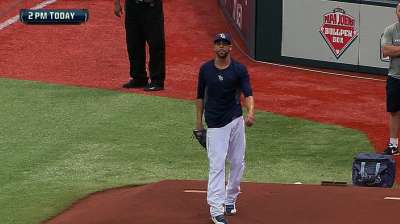 BOSTON -- David Price was just trying too hard. The Rays left-hander learned his lesson, manager Joe Maddon said, and will take it a little bit slower as he begins a rehab assignment Friday.
Price reported soreness after a bullpen session Saturday, experiencing a slow recovery while trying to work his way back from a sore triceps. The soreness was due to extended effort from Price, who was pushing his body to the maximum as if he was "in mid-season form," Maddon said.
But Price threw a productive bullpen session Tuesday and felt great this time. The next step will be a rehab start with Class A Bradenton on Friday, in which Price will have no pitch count, but Maddon expects it to be a short outing.
"Guys who have never been hurt before, sometimes they don't know the difference between soreness and pain," Maddon said. "Soreness is not a bad thing. Pain is bad. He was abnormally sore. A lot of times when you get sore, you're just rebuilding the muscles to see how your body is going to work. He's doing good. We'll let him throw those couple innings and reevaluate after that."
The Rays have yet to map out a plan for Price, but Maddon said it's reasonable to expect Price will return within a few weeks.
"I think there's definitely a possibility he could be back before the All-Star break," Maddon said. "The soreness set us back a little bit, but it seems to be back on task right now."
Jason Mastrodonato is a reporter for MLB.com. Follow him on Twitter @jmastrodonato. This story was not subject to the approval of Major League Baseball or its clubs.