Nicasio can't recover from rough start as Rox lose
Nicasio can't recover from rough start as Rox lose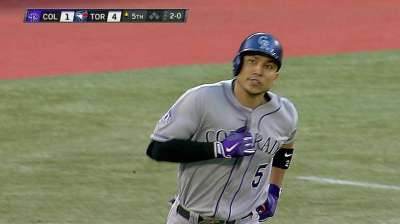 TORONTO -- Rockies right-hander Juan Nicasio wore a new number, but was the same guy. That isn't entirely bad, but nonetheless needs to improve.
Nicasio was competitive for five innings, and was hurt by a couple of errors, but the three-run homer he served up to the hottest of the hot Blue Jays, Adam Lind, was the key blow in a 5-2 loss at Rogers Centre on Wednesday.
Toronto has won eight straight, including this three-game sweep of the Rockies, who hope the next leg of their nine-game road trip -- four games in Washington starting Thursday night -- will go better, as they try to keep pace in the tight National League West. The Rockies arrived in Canada a half-game out of first place, but left in third, with the fourth-place Padres just a half-game behind.
Carlos Gonzalez hit a solo homer in the fifth to bring his total to a National League-leading 21, and Michael Cuddyer singled in the first to extend his hitting streak to 17 games -- the longest for a Rockies player since Matt Holliday's 17-game streak in 2007. But it wasn't enough for Colorado to overcome its early defensive mistakes.
The Rockies scored five runs in the three games and dropped to 0-9 all-time at Rogers Centre. But the Rockies are headed to Nationals Park, where they are 12-4 and haven't lost a series since it opened in 2008. Granted, they have to deal with pitchers Jordan Zimmermann and Stephen Strasburg, and are a week into the expected 4-6 week absence of star shortstop Troy Tulowitzki. But at least Toronto is behind them.
"It's just a tough road trip, but you can't carry this everywhere," Gonzalez said. "That team [Toronto] has been playing really good baseball, and we didn't play good at all. We're going to go and play a different series with a different team and try to win games."
Before the game, Nicasio gave up the No. 44 that he'd worn from his arrival in 2011 for No. 12. His old number will go to veteran Roy Oswalt, who will join the club on Thursday and pitch against the Nationals. Nicasio said he wore 12 throughout his Minor League career, so he doesn't mind changing numbers and he won't ask Oswalt for anything in return.
Nicasio (4-3) has had big moments this season, but has yet to throw a pitch in the seventh inning, usually because he's struggled later in games. This time, the issues came early.
Lind's homer, his ninth of the year and fifth this month, came on a changeup that had no movement in the first inning.
"I don't think it's just me, it's our whole lineup," Lind said. "We're getting the job done right now."
The Blue Jays' first was aided by a throwing error charged to third baseman Nolan Arenado. First baseman Jordan Pacheco, starting for Todd Helton, could not scoop the throw, which bounced in front of him.
"A couple tough breaks behind him, but Juan did well," Rockies manager Walt Weiss said. "It's always tough to play from behind, particularly on the road, but at that point, there's a lot of game left, plenty of time to make that up."
The only other run off Nicasio came in the fourth. Nicasio walked leadoff man Colby Rasmus, and Rasmus moved to third when second baseman DJ LeMahieu bobbled a possible inning-ending double-play grounder from Maicer Izturis for an error. Emilio Bonafacio's grounder drove in the run to make it 4-1.
Nicasio left after throwing 97 pitches, but he walked only one and struck out three.
"I threw strikes, threw more balls down in the zone, worked fast and tried to go deep in the game," Nicasio said.
Nicasio didn't pitch in Triple-A before being called up in 2011, and he missed large chunks of the last two seasons with injuries. Veteran Yorvit Torrealba, who has taken the role of mentoring Nicasio and catching him regularly, said he's seeing progress.
"He threw what seemed like 60 pitches in the first two innings, but he got better and kept us in the game," Torrealba said.
The Rockies drove up the pitch count of Toronto starter Mark Buehrle (4-4), who also left after five innings. He threw 92 pitches and gave up two runs -- including one in the second when Pacheco doubled and Torrealba singled him home. Buehrle gave up eight hits and struck out four.
Seeing Buehrle leave might have made matters worse for the Rockies, because of a Blue Jays bullpen that stymied the Rockies in all three games.
Neil Wagner's scoreless sixth dropped his ERA to 0.87. Steve Delabar, who entered tied for first among American League relievers in strikeouts, added three in the eighth inning. Brett Cecil ran his hitless streak to a Blue Jays record 38 batters, besting the 36 for David Cone from June 11-17, 1995.
The Jays' Munenori Kawasaki tripled off Rob Scahill and scored on Melky Cabrera's single in the seventh to make it 5-2.
Casey Janssen earned his 16th save.
Thomas Harding is a reporter for MLB.com. Read his blog, Hardball in the Rockies, and follow him on Twitter @harding_at_mlb. This story was not subject to the approval of Major League Baseball or its clubs.