Perez to be re-evaluated after Friday session
Perez to be re-evaluated after Friday session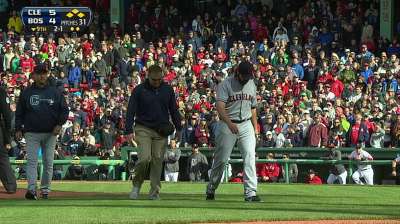 CLEVELAND -- Indians closer Chris Perez thought he'd be activated from the 15-day disabled list on Friday for the start of a series against the Minnesota Twins.
That was before his tough rehab appearance on Tuesday, when he served up three homers in a five-run inning for Double-A Akron. On Wednesday, Tribe manager Terry Francona told reporters that Perez was scheduled to throw a bullpen session on Friday.
"The good news is, physically, he feels really good," Francona said before Wednesday's 6-3 win over the Royals. "Mechanically, I think he's fighting it a little bit."
Perez, who went on the DL on May 27 with a right shoulder strain, allowed five hits and struck out two in the 23-pitch outing for Akron. Francona said the team would evaluate Perez again after Friday's bullpen session.
"He will come in tomorrow, get some treatment and play catch, and throw a bullpen on Friday," Francona said. "Then, we'll go from there."
Francona also said Perez went over recent video with pitching coach Mickey Callaway and bullpen coach Kevin Cash on Wednesday. Apparently, Perez was coming open a little too soon in his delivery, which detracted from the closer's velocity.
"He also had gotten away from the extended long toss as he was coming back," Francona said. "I think he thinks that'll help him a bunch, too."
In 17 appearances for the Indians this season, Perez is 6-for-8 in save opportunities and owns a 4.32 ERA.
"He understands [that] when he comes in, pitches the ninth inning, game's on the line, he's got to be in top form or pretty [darn] close to it," Francona said. "And so, we're going to make sure we get him there."
Mark Emery is an associate reporter for MLB.com. This story was not subject to the approval of Major League Baseball or its clubs.