Two homers, sharp Stults not enough in finale
Two homers, sharp Stults not enough in finale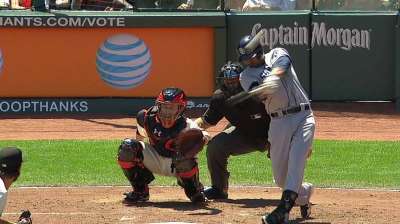 SAN FRANCISCO -- Luke Gregerson has proved to be so reliable and successful in his five seasons pitching out of the bullpen that no one was quite sure what to say or how to react after he let one get away from him Wednesday.
"That's the first time I've ever seen Luke have trouble like he did," said Padres pitcher Eric Stults. "I think it will be a long time until you see it again."
Gregerson yielded three seventh-inning runs and didn't retire any of the four batters that he faced as the Giants rallied for a 4-2 victory over the Padres in front of a sold-out crowd of 41,866 at AT&T Park.
This marked the first time this season that Gregerson (4-3) has allowed an inherited runner to score in a game. What's more, this was just the third time in Gregerson's 324 Major League appearances that he's allowed two or more earned runs without getting an out in a game.
"The slider just wasn't working for Luke," Padres manager Bud Black said of Gregerson's most effective pitch, one that has worked wonders for him since he broke in the big leagues with the team in 2009.
The Padres (36-36) had only four hits Wednesday, but two were home runs -- one by Will Venable in the third inning and another by Jesus Guzman to start the seventh inning. That gave the Padres a 2-1 lead -- a lead that proved fleeting.
Gregerson entered the game with one out in the seventh inning and after Stults had allowed a hit to Tony Abreu. Pinch-hitter Hector Sanchez single to right and pinch-hitter Gregor Blanco followed with a two-run triple for a 3-2 lead.
Marco Scutaro then lined an RBI single into center field for a 4-3 lead. After Buster Posey singled, Black went to his bullpen for Tyson Ross. Ross struck out the five batters that he faced.
All told, Gregerson threw six pitches -- four of which resulted in hits.
"I made one good pitch out of the [four] hits," Gregerson said. "That one to Scutaro was flat and stayed over the middle. Why? I don't know. It's one of those days where I didn't finish the pitches."
Up to that point, the Padres looked as though they might sneak out of town with the series victory. Stults, who hasn't allowed more than two earned runs in his last five starts, lowered his ERA to 3.25 this season by being charged with two runs on seven hits in 6 1/3 innings. He walked two and struck out three.
"I felt good, I felt like I was commanding the strike zone pretty well," he said. "I gave up some early hits but most of them were singles."
The Padres struggled to cobble together much offense against Giants pitcher Madison Bumgarner, who made the mistakes to Venable and Guzman but little else. Bumgarner (7-4) allowed two runs on three hits over seven innings with four walks and eight strikeouts.
"That's obviously not ideal, but it seems like mistakes I made they put good wood on," Bumgarner said of the home runs. "They're hot right now and a scrappy ballclub."
Play was halted briefly in the second inning when Bumgarner fired a pitch behind Guzman. Guzman hit a two-run, pinch-hit home run in the eighth inning on Tuesday that the Giants may have taken exception to, though no one would admit as much afterwards.
"It's part of the game," Guzman said. "I will forget it."
The benches cleared before order was quickly restore. Guzman flew out to deep left field and then gave the Padres a 2-1 lead with his home run in the seventh inning.
"I have no idea where that came from," Black said. "That was uncalled for, I thought. I didn't get it."
In the end, it mattered little, as the game moved on without further incident. What did matter was the Padres were unable -- for the second time in as many days -- to hold onto a late lead, as Gregerson had his third blown save of the season.
"He's going to pitch 60 to 75 games and is not going to be invincible," Black said. "Look at what he has done [in his career]. I don't even have to look at the stats."
Corey Brock is a reporter for MLB.com. Keep track of @FollowThePadres on Twitter. This story was not subject to the approval of Major League Baseball or its clubs.