Brantley's bat swings things in Indians' favor
Brantley's bat swings things in Indians' favor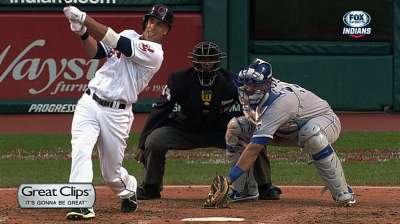 CLEVELAND -- Grinning faces were easy to spot on Wednesday in the Indians' dugout.
Between a two-homer, three-RBI game from Michael Brantley and another quality start from sinkerballer Justin Masterson, the Tribe had plenty to be happy about in its 6-3 win over the Royals at Progressive Field.
The victory moved the Indians 3 1/2 games back of first-place Detroit in the American League Central standings. Kansas City is in third, 1 1/2 games behind Cleveland.
In Wednesday's rubber game, Brantley launched leadoff shots over the right-field fence in the fifth and eighth innings for the first multi-homer game of his career.
"It's awesome. I'm not going to lie," Brantley said. "It put a smile on my face. I don't show too much emotion, but I smiled after that one."
Brantley went 2-for-3 at the plate, driving in Mike Aviles with a sacrifice fly in a decisive three-run sixth inning.
It began with a Drew Stubbs single and also featured an RBI single by Aviles -- which went off the glove of Royals left fielder Alex Gordon near the left-field wall -- and a four-pitch, bases-loaded walk to Carlos Santana, issued by Kansas City starter Luis Mendoza, who held the Tribe hitless through the first four innings before Brantley's blast in the fifth.
As for Masterson, the right-hander allowed nine hits in 6 1/3 innings, but the Royals managed just two runs off him. He walked two and struck out eight.
Masterson improved to 9-5 with a 3.48 ERA. In nine starts at Progressive Field, he's 6-1 with a 2.29 ERA.
"It's probably because I get to hang out with my wife and daughter before the game," Masterson said about his dominance at home. "It just seems to work out. I don't exactly know what the science is behind it or anything like that. But the bad games have come on the road. Just nice to hang with the fam."
On Wednesday, Masterson's runs came in the fourth and fifth innings. Elliot Johnson's liner up the middle brought David Lough home in the fourth. An inning later, Lough sent a grounder down the left-field line that plated Eric Hosmer.
That was all Kansas City managed against Masterson, who was helped in no small part by Mark Reynolds. The first baseman made a pair of diving stops in the game, the second of which stole a potential two-run hit away from Gordon and ended the Royals' threat in the fifth.
"Mark was over there doing a great job, jumping this way and that way, making some plays," Masterson said. "He helped out in some key situations, saved a couple runs there."
Cleveland scored another run in the seventh inning, when Aviles hit a sacrifice fly to right that plated Michael Bourn.
Though the Tribe had no trouble crossing the plate in the latter portion of the game, that wasn't the case to start things off. Brantley's first home run, the one that went out in the fifth inning, was Cleveland's first hit.
Mendoza (2-4) was strong early. However, he wound up surrendering four runs in five-plus innings, while walking three and striking out three.
"The first five innings were about as good as you could get," Royals manager Ned Yost said. "He gave up the one hit, a home run, on a pretty good curveball. It wasn't a hanger or anything, by any stretch of the imagination. A curveball down and in and he got the head out on it. But he just kind of fell apart in the sixth after Stubbs got the hit."
In 20 games before Wednesday, Brantley was 11-for-69 (.159) with zero home runs and six RBIs.
"It doesn't change my mindset at all," Brantley said. "I take it at-bat by at-bat. I don't look at stats. At the end of the year, I'll look at all my stats."
Against the Royals, Masterson demonstrated the stuff that has helped him become one of four AL pitchers with nine wins.
"It's fun to watch," manager Terry Francona said. "I got to try not to get caught up in how fond I am of him when he's pitching. When he comes off, I'm always smiling at him. It's hard not to. But he really did a good job."
Mark Emery is an associate reporter for MLB.com. This story was not subject to the approval of Major League Baseball or its clubs.