Royals' series win streak halted in Cleveland
Royals' series win streak halted in Cleveland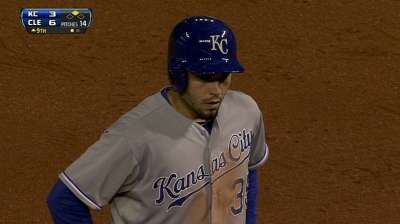 CLEVELAND -- Minnesota, Houston, Detroit and Tampa Bay all floundered in the wave of Kansas City victories. The Royals won a series from each of those clubs, four in a row.
That successful run ended at Cleveland where, on Wednesday night, the Indians beat the Royals, 6-3, and took the series, two games to one, at Progressive Field. It was just the fourth loss in the Royals' last 15 games.
They were 4-3 on their trip, entering Thursday's off-day two games under .500 at 34-36. They were nine games under when their string of series wins began.
"It was a good road trip," left fielder Alex Gordon said. "We would have loved to have turned these last two games around and we could have. We had our opportunities and just didn't do it. We're going to enjoy the day off, clear our heads and try to keep things going. We can't let these last two games affect us moving forward."
Royals starter Luis Mendoza whizzed through the first four innings without giving up a hit. Michael Brantley ended the fun on a 2-2 pitch to start the Indians' fifth inning, as he lined a home run into the right-field seats to cut the Royals' lead to 2-1.
That ended a 0-for-13 skid for Brantley, who later hit a second solo home run in the eighth inning and drove in three runs.
But, at that point, Mendoza was clearly in command.
"The first five innings were about as good as you could get," manager Ned Yost said. "He gave up the one hit, a home run, on a pretty good curveball. It wasn't a hanger or anything, by any stretch of the imagination. A curveball down and in and he got the head out on it. But he just kind of fell apart in the sixth after [Drew] Stubbs got the hit."
Oh, yeah, that sixth inning turned everything around.
Mendoza was out of the game after the first five batters in the inning reached base. Stubbs singled, Michael Bourn walked and Mike Aviles got an RBI single on a fly ball that dropped off Gordon's glove near the left-field wall.
"That's a ball that needs to be caught, especially in that situation," Gordon said. "Aviles was going to bunt the guys over and then gave us a popup -- it was toward the wall, but it was off my glove and I should have caught it, no question. It would've been a big out and changed the inning around. Instead they put up three. I just need to make the play there and didn't do it."
Jason Kipnis bunted safely to load the bases and Carlos Santana walked on four pitches.
"With the bases loaded, I don't want to give up a long hit. He was patient and he didn't chase bad pitches," Mendoza said. "I should have attacked him and tried to get a double play or get an out."
That put the Tribe ahead, 3-2, and put Mendoza out of the game.
Left-hander Tim Collins took over and Brantley lofted a sacrifice fly. Mark Reynolds singled sharply off shortstop Alcides Escobar's glove to re-load the bases. But there Collins slammed the door with two outs to keep it at 4-2.
Indians manager Terry Francona figured that Mendoza might have benefited from the elements early in the game.
"Early, the first, what, two, three innings, it was really hard to see in the sun, as we're creeping into summer," Francona said. "And he had a real good slider. He had enough of a fastball and he could use it in fastball counts. And then the slider was giving us fits. And then, I thought he went to it a lot. And we started laying off and he got some pitches up, and he got himself in a little bit of trouble."
The Royals had right-hander Justin Masterson struggling, but managed to score off him just twice.
"We got his pitch count up early. We got eight or nine hits off him, we just couldn't do much damage off him. Got the two runs and that was it," Yost said.
Masterson, improving to 9-5, was finally pulled in the seventh inning after expending 115 pitches.
"Masterson's our ace. No question about it," Brantley said. "When our ace throws, we got to win those games. They're big for us, and he threw great tonight."
The Royals ran up a total of 12 hits, including three each by Eric Hosmer and David Lough and two each by Mike Moustakas and Escobar. But the runs weren't forthcoming.
After Brantley slugged his second home run off Luke Hochevar to start the eighth, the Royals made a comeback feint in the ninth with Escobar's leadoff single and Hosmer's one-out RBI double. But the game ended quickly as Salvador Perez swung at Joe Smith's first pitch and grounded into what became a double play, when Hosmer was out at third base on an ill-advised dash.
"Absolutely, that run doesn't mean anything," Yost said. "Sometimes these guys are trying too hard to make something happen."
On the first night in Cleveland, at least, the Royals did wrest possession of second place in the American League Central from the Indians. They returned home back in third place, but are still just five games behind front-running Detroit.
Dick Kaegel is a reporter for MLB.com. This story was not subject to the approval of Major League Baseball or its clubs.