Heating up at plate, Montero doesn't want day off
Heating up at plate, Montero doesn't want day off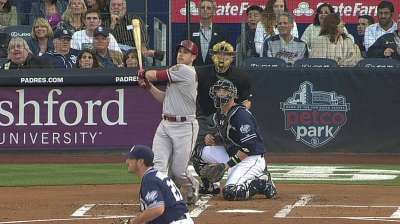 PHOENIX -- After struggling to find his hitting stroke during the first two months of the season, catcher Miguel Montero has been swinging the bat well and he doesn't want any time off to get in the way.
"Obviously I'm starting to feel better at the plate, and I really have to take advantage of that," Montero said. "I never want a day off, period, but now I'm really asking him not to give me one, because I feel better at the plate and I just want to continue that. If I get a day off, I might go backwards a little bit."
Manager Kirk Gibson granted Montero's request and started him in Wednesday's afternoon game following Tuesday's night game.
With the D-backs having Thursday off as well as next Monday, Montero will get his rest then.
After bottoming out with a .180 batting average on May 19, Montero has managed to raise his average to .225.
In his last 40 plate appearances, he's hitting .361 with a .400 on-base percentage.
"I'm feeling better and better and better -- and hopefully it stays there," Montero said.
Steve Gilbert is a reporter for MLB.com. Read his blog, Inside the D-backs, and follow him on Twitter @SteveGilbertMLB. This story was not subject to the approval of Major League Baseball or its clubs.