Redmond impressed with Eovaldi's velocity
Redmond impressed with Eovaldi's velocity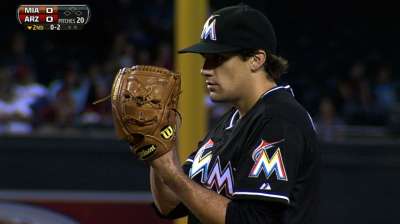 PHOENIX -- Manager Mike Redmond saw Nathan Eovaldi in Spring Training, so he knew the right-hander could light up the radar gun. But even with the prior familiarity, Redmond was still taken back by Eovaldi's sustained velocity Tuesday in his season debut vs. the D-backs, in which the 23-year-old touched 99 mph with several fastballs.
"I was pleasantly surprised," said Redmond, adding that the righty actually hit 100 mph in one of his Minor League rehab starts. "He was able to maintain his fastball over the course of his 84 pitches. He was really good."
Eovaldi, who missed the first two months of the season with a shoulder injury, said he reached triple digits a few times in 2011 when he was a reliever in the Dodgers' bullpen but never as a starter.
"I guess I'm just fresh," Eovaldi said. "I haven't been throwing all that much, just been rebuilding my shoulder. Maybe that's helped some."
Tyler Emerick is an associate reporter for MLB.com. This story was not subject to the approval of Major League Baseball or its clubs.