Porcello, 'pen can't contain O's as Tigers drop rout
Porcello, 'pen can't contain O's as Tigers drop rout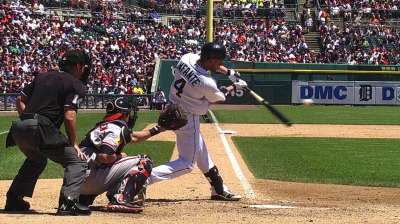 DETROIT -- Down two runs, Rick Porcello found himself in a jam in the fourth inning. Although there were two runners on base, he liked his odds with two outs and the No. 9 hitter at the plate. However, Taylor Teagarden made him pay with a three-run homer to give the Orioles a 5-0 lead, a deficit the Tigers couldn't recover from in a 13-3 loss at Comerica Park on Wednesday afternoon.
Chris Davis led the charge in the fourth with an opposite-field two-run homer. It was his Major League-leading 25th home run -- he added his 26th homer in the ninth -- and his third career home run off Porcello.
"I feel like I've had some pitches the last few games to drive the other way, and I've kind of pulled off of them," Davis said. "That's something I was kind of working on before the game. He left it out over the plate and I didn't swing real hard, I just barreled it up and was able to get it over the first wall."
Later in the inning, with J.J. Hardy on second base, Ryan Flaherty hit a dribbler down to third baseman Miguel Cabrera, who didn't have a play to make.
"Guys are going to get infield hits, he put it in the perfect spot where none of defenders could get to it," Porcello said. "You deal with that, that didn't affect me at all. I felt really good with a right-handed hitter coming up in the nine-hole."
Except Teagarden had other plans. He drilled a three-run homer to left on a 91-mph fastball. Teagarden's last home run against the Tigers was his first hit in the 2012 season -- a walk-off blast in the 11th inning on July 14.
"I've got respect for him as a player, and at any point somebody can hit you, but I've got to make a better pitch against him," Porcello said. "I've got to make it tougher for him. That's probably one of the worst at-bats I've pitched this year."
Following Teagarden's three-run homer, Nate McLouth doubled and Manny Machado scored him with a single, giving Baltimore a 6-0 lead.
Porcello tossed two more scoreless innings, but the damage was done. He allowed six earned runs and nine hits in six innings, ending a streak of four consecutive quality starts.
"I left some pitches up but still had a chance to get out of there with only two runs, and to let that opportunity slip away is pretty frustrating," Porcello said. "This one is going to stay with me for awhile because I put up five shutout innings, but you give up six in one inning, you can't expect to have success doing that."
The Tigers pieced together two runs in the sixth inning -- a two-run double by pinch-hitter Matt Tuiasosopo -- they cut the deficit to 6-3. However, they wouldn't get another runner into scoring position until the ninth.
By then, the Orioles added plenty of insurance runs to make sure the result was in hand. They added three more runs in the seventh inning against Detroit relievers Darin Downs and Evan Reed.
In the ninth, Baltimore used four consecutive hits to score four runs against Jose Valverde -- including Davis' second home run to give him five RBIs in the game. Valverde threw him three consecutive splitters, including the one that went into the right-field stands.
"Split right into my barrel," Davis said. "The first one he threw me was one of the better ones I've seen from him, and the one away was good location. The last one was a good pitch, it just caught too much of the plate."
Despite the non-save situation, manager Jim Leyland said Valverde needed to pitch after not taking the mound since Friday.
After the Tigers won the first game in the series, Baltimore took the last two games to win its Major League-leading 16th series of the year.
"I don't want to sit here and look like I'm making excuses, because I'm not in any way, shape or form," Leyland said. "Things have to be a little bit better. But like I said, today was a day where it was a combination of things. Ricky lost his composure, and the Teagarden home run was a killer. Davis' homer, I don't worry about that much. But he lost his composure, and it bit him."
Bobby Nightengale is an associate reporter for MLB.com. Follow him on Twitter @nightengalejr. This story was not subject to the approval of Major League Baseball or its clubs.